Editor's Note: This story is excerpted from Computerworld. For more Mac coverage, visit Computerworld's Macintosh Knowledge Center.
Google hopes to make it easier for users to get from point A to point B by integrating its Google Maps Street View images with Google Maps driving directions to provide visual images like this of an entire driving route.
In the 44 regions of the country where Street View is available, users will see camera icons next to each step of their directions, which will open a Street View image of the location, along with an arrow showing the action to be taken, Google said Tuesday. Users can click though an entire driving route through Street View, and when the trip is done, a green marker will show them that they have arrived at their destination.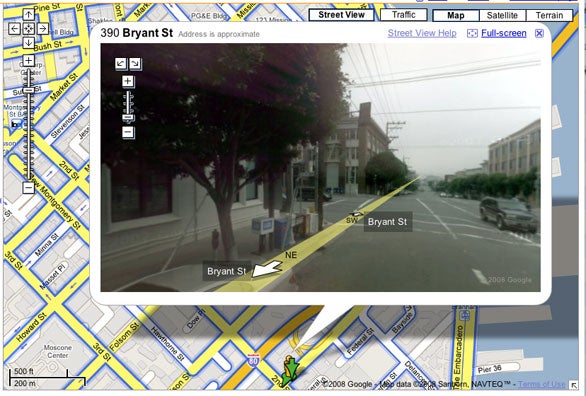 The goal of combining Street View images with driving directions is to provide drivers with a "visual context" for areas where they have to turn, merge or take other actions, according to Google. Thus, drivers can be aware of landmarks and other factors like tools, speed limits and the size of the roads they will be traveling along.
"Street View lets you virtually behold amazing sights like Yosemite's El Capitan and The World's Largest Rocking Chair," said Andy Szybalski, a Google user experience designer. "But if you're like me, occasionally you need to go somewhere in real life. And it's not always easy to find your way around an unfamiliar place. Now, you can preview your route before hitting the road."
Street View, launched last May, lets Google Maps users click on a city street and see a panoramic photo taken of the area. The tool has since raised some privacy concerns by people whose faces or possessions can be seen in street-level photographs. Google recently made Street View available through its Google Maps API, which it said will allow developers to use Street View to add to the services and applications they build.