I've been thinking, of late, of getting a second job. Not that I don't enjoy my weekly gig sharing gadgetry with you, but there's got to be more to life, right? You need to follow your heart, a wise man once told me. I contemplated this as my birthday passed this last week: here I am, now officially and unarguably ensconced in my late twenties, and I've never accomplished even one of my childhood dreams. It's time.
I shall—at long last—fulfill my destiny and become a superspy/costumed crimefighter.
When it came right down to it, you see, I couldn't decide between them. Really, they're not so far apart, the two: James Bond, Bruce Wayne—they're two sides of the same coin. But regardless if I opt for the "heads" of government-sponsored espionage or the "tails" of vigilante-style street justice, I'm going to be well equipped.
Outside of a dog, man's best friend is a watch (inside a dog, it's too dark to tell what time it is)
Let's start with the timepiece: an essential gadget for every gentleman on-the-go. Synchronizing watches for coordinated operations is a must, but it's far more important to make sure that you're not late for dinner with those special ladies in your life. That doesn't mean you can't trick out your watch with some extra features, though.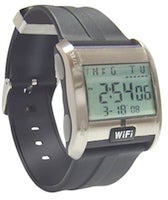 Thumbs Up (UK) is offering a model that not only gives you that essential date-and-time info, but also lets you know if you're in the vicinity of a Wi-Fi network, just in case you need that uplink back to headquarters. Rated for a range of up to 100 meters, the Wi-Fi watch can also provide you with signal strength for each network. It's anti-static and shock-proof, and also has a chronograph, countdown, alarm, hourly chime, and more, all for just £20 (~US$40).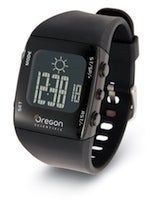 When you're stuck in the wilderness, Wi-Fi signals are often few and far between. In that case, consider this pair of watches from Oregon Scientific. In addition to clock, calendar, stopwatch, and alarm functions, the Meteo and Tracker each pack extra skills that may come in handy in the outdoor world. The Meteo will give you a weather forecast with one of four icons: cloudy, sunny, partly cloudy, and rainy; the Tracker provides you with a digital compass. Both have backlights and are water-resistant up to 30 meters, and each will cost you $70.
Buying all three may cost you a pretty penny, but consider this: you have two arms. And legs. You could wear all of these and still have room for another.
[Wi-Fi Watch via Engadget; Oregon Scientific watches via DVICE]
Batarang/MP3 perfect for smashing tunes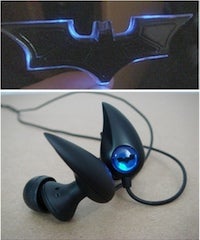 Crimefighters need weapons—unless they themselves are the weapon, naturally—but that doesn't mean they shouldn't be allowed to enjoy themselves when they're on the job. I mean, that's the whole point of getting free of this corporate hierarchy in today's world, right? No pointy-haired bosses telling you "Oh, no, you can't listen to music; you might disturb your co-workers" or "No, you can't just go around randomly shredding people's personal photographs, it's not nice." They totally just harsh my mellow; that's why a life of caped crusading is for me.
So, let's say you're off fighting crime. Like Batman. But maybe the Dark Knight wants to kick back and listen to some tunes while he's kicking butt: maybe some Metallica or Nine Inch Nails, possibly some Barry White—I don't know what he likes. He could just have an iPod on that utility belt of his, but Batman's a crafty sort. Why do that when he could just build music-playing functions into one of his existing gadgets? Like, say, a batarang? Complete with stylish bat-earbuds.
When it's released in June, this sucker'll be about 7″ long, with a handy glowing effect around the edges (hey, it can be hard to locate your music player on those dark Gotham nights). You can load it up with 1GB of your own chosen tunes, and it even comes with a USB cable for transferring music and charging up the internal battery. While $80 might seem a bit of a steep price, this I guarantee: no criminal is going to forget getting whacked in the face with this baby.
[via Gizmodo]
"X" never, ever marks the spot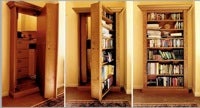 Nothing, in the worlds of crimefighting and espionage, is ever quite what it seems. Things, after all, are meant to be hidden from prying eyes. In the case of a vigilante, it might be their true identity that needs concealing, whereas for your everyday spy, the ability to detect such obfuscation could prove key.
Chief among those is the secret lair. When I was younger, I imagined that my parents' fireplace contained a concealed doorway—pull one of the andirons, and it would whirl around (à la Indiana Jones and The Last Crusade). But if you don't mind ponying up a little money, you can have your very own secret passage installed in your home.
Creative Home Engineering will get your own custom secret passage up and running in no time. They've got plenty of options, including a bunch of the time-honored classic "door-behind-a-bookcase" models, but also—be still my heart—rotating fireplaces. All come complete with triple-redundant safety features, including optical sensors, thermal sensors, and mechanical obstruction detectors. Of course, this isn't cheap for the average man on the street—$5,000-$25,000 a pop—but hey: we're all independently wealthy corporate moguls here, right? Besides, you know your lair isn't complete without one.
[via Gizmodo]
Well, so much for our roundup of secretive gadgets; next week we'll be back with—whoops, there's the doorbell. Probably the UPS guy with my delivery of head-mounted lasers for sharks. See you next week!