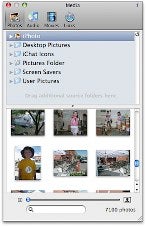 Karelia Software on Thursday announced the release of version 1.1 of its iMedia Browser. iMedia Browser is a free utility that adds a "media browser" experience to most Mac applications.
iMedia Browser lets you browse and drag content from the folders you use to store photos, music, movies and bookmarks. It works in conjunction with applications like iPhoto, Aperture, iTunes, GarageBand and leading Web browsers.
New to the 1.1 release is support for Adobe Lightroom. Movie thumbnail generation has been "vastly improved," according to the developer. A new online help feature has also been added.
iMedia Browser is free to download and use. System requirements call for Mac OS X v10.4 or later.