At a Glance
Expert's Rating
Pros
Images look good once the display is calibrated
Good response time
Cons
Out-of-the-box settings are inaccurate
Limited viewing angles
Our Verdict
ViewSonic's VP2250wb is a 22-inch LCD monitor with 1,680-by-1,050-pixel widescreen resolution. It has a DVI port for connecting to just about any modern Mac, and an analog VGA port for connecting older Macs or PCs. It features a fast 2 millisecond response time, which helps when watching movies or playing games. The VP2250wb is a decent consumer-level display, but you'll need to calibrate it to improve the color, and its narrow viewing angle limits the display's usefulness in a collaborative setting.
Setup was straightforward. We connected the VP2250wb to our Mac Pro via the DVI port using the included cable. The display can tilt forward and back and has up and down height adjustment. There's no ability to pivot into portrait mode, but we usually find that most people only use the pivot as an easy way to access the ports when plugging in the display, rather than actually using the display vertically. Most people don't need to set up and tear down their displays as often as we do in the Lab, so we won't knock the ViewSonic for lacking a portrait mode. If you're one of those folks who do like displays tall and thin, then you'll either need to use the VESA mounts or look for a different display.
The VP2250wb booted into its native 1,680-by-1,050 resolution automatically. Once, when used in a multi-display configuration, the VP2250wb booted into a higher, non-native resolution. While this was more helpful than displaying a black screen with an out-of-range message, you don't want to use the monitor in anything other than its native resolution—the VP2250wb looks pretty bad when displaying this interpolated mode. The problem was easily fixed in the Display pane of OS X's System Preferences, and the error never occurred again.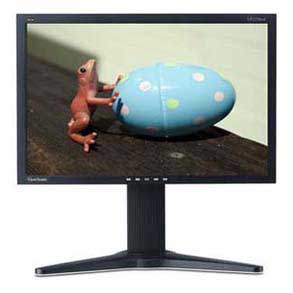 Once the VP2250wb was set up properly, the display, like most consumer monitors coming out of the box, was overly bright and a little oversaturated at its default settings. Manufacturers do this so that the display stands out on a crowded shelf at your local retailer, but it results in inaccurate color; for example, reds looked purple-ish and whites had a cool blue tint. Calibrating the display to 6500 Kelvin helped immensely; in fact, looking at the VP2250wb straight on, it was hard to distinguish the monitor's images from some higher-end models.
The key, however, is the angle at which you look at the display. Move to the left or right of center (or up or down, for that matter) and the drop off in image quality is very noticeable. Far off of center, the display looks dingy and yellow and not very attractive at all. But you can start to see the shifts even if you move only slightly off center. If you're sitting alone in front of your monitor, this shouldn't be too much of a problem. If you happen to collaborate with co-workers on a regular basis, know that the person sitting on your left or right may not be seeing the same colors that you are.
The VP2250wb boasts a very fast 2ms response time, which helps the display keep up with the frame rates of video games or movies. I watched a variety of clips and games and the VP2250wb had no problem rendering the action.
Jury Test
| | |
| --- | --- |
| Viewing Angle | Fair |
| Color Fidelity | Good |
| Text Legibility | Very Good |
Scale = Superior, Very Good, Good, Fair, Poor
Specifications
| | |
| --- | --- |
| Size | 21.6 inches |
| Native Resolution | 1,680 x 1,050 |
| Connections | 1 DVI, 1 VGA |
| Viewing Angle | 170 degrees |
| Brightness | 300 cd/m2 |
| Response Time | 2ms |
| Contrast Ratio | 1,000:1 |
| Dimensions (height x depth x width in inches) | 15.3 x 12.2 x 20.1 |
| Special Features | 3000:1 dynamic contrast ratio, 4port USB hub |
| Warranty | 3 years |
Macworld's buying advice
Though color professionals and those who often collaborate with co-workers may want to look elsewhere for a display with better viewing angles, the VP2250wb is a fine, affordable multimedia and general-purpose display.
[James Galbraith is Macworld's lab director.]