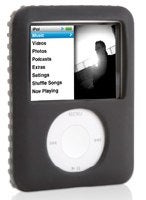 Griffin Technology has introduced the FlexGrip and FlexScreen, two new iPod cases. The company has also rolled out the Screen Care Kit for the iPod touch. Each is priced at $14.99.
The FlexGrip is a textured silicone case for the iPod nano and iPod touch. It's made in a two-color design and features a textured, nubby rear surface for an easy grip. Included is a static peel touchscreen protector and cleaning cloth.
The FlexScreen sports the same textured back as the FlexGrip but incorporates a clear scratch-resistant polycarbonate face shield that snaps onto the outside of the case to provide additional protection.
The Screen Care Kit for iPod touch includes five static peel screen protectors and a lint-free cleaning cloth.