Editor's Note: The following article is reprinted from Macworld UK. Visit Macworld U.K.'s blog page for the latest Mac news from across the Atlantic.
The BBC is off to an incredibly strong start as it begins selling selected TV shows through iTunes in the U.S.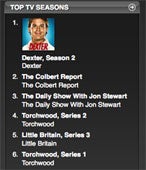 BBC America began selling TV series in the U.S. this week, launching with the following titles: Torchwood, Little Britain and Robin Hood. It appears the content has struck a nerve in the U.S., with the BBC now seizing three of the top ten TV seasons places on the iTunes Store in the U.S.
Torchwood is at numbers four (series two) and five (series one) on the top ten list while Little Britain takes third place in Apple's own top ten, which is itself generated on the basis of sales.
Interestingly, none of the BBC's TV shows have ranked among the top ten series in terms of individual episodes, suggest that the U.S. audience, at least, is purchasing entire series of the BBC shows-clearly a very strong start.