iPhone users who need a speed boost over the EDGE connection find the phone's Wi-Fi functionality quite handy. The only problem is locating a hotspot to use it on. However, Starbucks and AT&T struck a deal earlier this year that will see the coffee retailer's Wi-Fi hotspots, currently served by T-Mobile, switched to the AT&T network. And that carries potential benefits for iPhone users.
Some iPhone users have reported that the newly launched AT&T hotspots are offering free Wi-Fi access to all iPhone users, as long as you have a valid iPhone phone number with the provider. Unfortunately, the situation is not quite as straightforward as one might hope.
I decided to take a little firsthand look, visiting four Starbucks in the Metro Boston area. I found only one offering free Wi-Fi for iPhones—the Davis Square, Somerville location nearest my home. I snapped a screenshot of the login screen (shown below), which accepted my iPhone's phone number without question and logged me in with no trouble.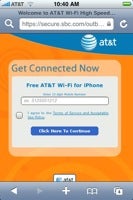 However, of the three subsequent Starbucks I visited, two were still using T-Mobile's service to provide Wi-Fi access. The third, a Starbucks ensconced in a Barnes & Noble store in Boston's Prudential Center, had an AT&T hotspot available, but was not offering free Wi-Fi to iPhones.
Interestingly, of the two Starbucks still providing T-Mobile hotspots, both also had Wi-Fi networks named "attwifi" which currently pointed to T-Mobile's hotspot logon servers. That seems in keeping with AT&T's stated intentions of rolling out the service starting this spring. According to the company's initial joint press release with Starbucks, it plans to switch the coffee chain's hotspots over on a market-by-market basis, finishing up by the end of the year.
An AT&T spokesperson I spoke to by phone would not comment on the subject and Starbucks did not respond to a press inquiry via email. What little information you can find on AT&T's website—all gleaned from that initial press release—suggests that customers of AT&T's broadband and U-verse Internet customers will be able to use the Wi-Fi service for free, though AT&T promises to "soon extend the benefits of Wi-Fi at Starbucks to its wireless customers." Other users will have to pay AT&T's rates of $3.99 for a two hour block, or $19.99 per month.
Contrast this with the situation in the United Kingdom, where mobile phone provider O2 has been offering free access to hot-spots in The Cloud network, of which there are 7,500 throughout Europe, to all iPhone subscribers. That may be a mere fraction of the 70,000 hotspots that AT&T boasts internationally, but it's certainly a far less ambiguous system.