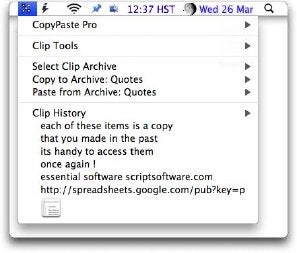 Script Software has released a new version of CopyPaste Pro, its multiple clipboard utility for Mac OS X. CopyPaste Pro costs $20 (after May 12th it rises to $30). A demo is available for download.
CopyPaste Pro lets you manage multiple clipboards — accessible using hotkeys, menus, contextual menus and a clip browser. It saves all clipboards through restarts, manages a clip history, features a clip editor and archives, lets you drag images from Safari to the clip history and more.
Script Software has rewritten CopyPaste Pro to be a Universal binary. It's also now compatible with Mac OS X v10.4 and Mac OS X v10.5 "Leopard." The developer said the new version is much faster, especially on Intel Macs and using Leopard. The clip editor is now also a word processor, and there are new ways to view, browse, edit and act on clips. A new and easier interface has also been incorporated.