Kensington Computer Products Group on Monday announced the release of the Battery Pack for iPhone and iPod and Mini Battery Pack and Charger for iPhone and iPod. They're available for $69.99 and $49.99 respectively.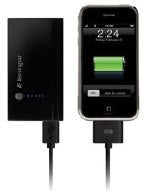 Both are designed to provide iPhone and iPod users with additional talk time or play time. The larger version, designed for heavy-duty usage, provides up to 100 hours of additional music playback time, 21 hours of video and six more hours of talk time. The device includes an AC power adapter with a USB connection and a dock connector. The mini USB cable lets you charge up other devices like PDAs, Bluetooth headsets and more. An LED battery meter displays the remaining charge.
The mini version, designed for better portability, extends play time up to 30 more hours of music, six more hours of video or three more hours of talk time. It includes a retractable USB charging cable and is small enough to stay connected to the iPod or iPhone, according to Kensington.
Both devices are designed to fit any iPod with a dock connector (excluding the third-generation iPod) and the iPhone.