At a Glance
Expert's Rating
Pros
Low system requirements
Multiple difficulty levels
Integrated demo engine
Cons
Promised level editor hasn't been delivered
Dated old school style is quaint
Our Verdict
You young whippersnappers wouldn't know it, but back in my day, the Mac was an awesome game platform. When "cutting edge" gaming on the PC involved big colored blocks on-screen, lousy sound effects and barely recognizable animation, the Mac (even with its 9-inch, 512-by-384 pixel resolution, black and white screen) could show marvelously detailed graphics and played back digitized audio.
One of the first companies to recognize the Mac's potential was Silicon Beach Software, and one of their first big Mac hits was a game called Dark Castle, a platform action game in which you, as Duncan, travel through a haunted castle to conquer the evil Black Knight. Back in my day, kids would walk miles through the snow for a chance to play a game like Dark Castle, with nothing but cardboard and newspaper bound to our feet with old twine!
It was popular enough to spawn a sequel, Beyond Dark Castle. Years later, Delta Tao released a color version of the game. Then, back in 2000, Z Sculpt announced that they were developing another proper sequel, Return to Dark Castle ($30).
As the years went by, Z Sculpt would occasionally drop a new beta version or update the status of the game, but it seemed like Return to Dark Castle joined 3D Realms' Duke Nukem Forever as vaporware. But all that changed when Super Happy Fun Fun, which had previously released Dark Castle for mobile phones, announced plans to release Z Sculpt's game. Return to Dark Castle is finaly here, but is it worth the wait?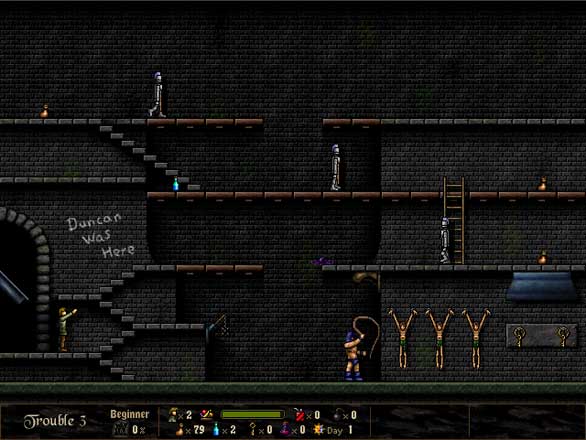 Well, Return to Dark Castle is without question a welcome walk down memory lane. While the game sports plenty of new challenges and a few gameplay changes, it's basically the same game that we old farts played back during the Reagan era, when we weren't listening to Duran Duran on our Walkmans and recording The A-Team on Betamax recorders.
All told, Return to Dark Castle features more than 50 new levels, 30 of them are "classic" levels that have been remastered from Dark Castle and Beyond Dark Castle and integrated into a new quest. There are secret rooms to explore and mini games to play, labyrinths and mazes, new weapons, power ups, and lots more to appeal to experienced Dark Castle and Beyond Dark Castle players.
Mac gamers who have grown up in the modern era are likely to find many of Return to Dark Castle's embellishments quaint; the game still sports a fixed resolution of 640-by-480 pixels, for example, though it can be switched in and out of full-screen mode. The graphics are still bitmapped; even the basic interface of the game is extraordinarily "classic" Mac-like. But that's the charm of Return to Dark Caste for gamers like me who will always have a soft spot in their hearts for this particular game series.
Gameplay is surprisingly challenging, especially at higher difficulty levels. Game controls are fairly easy to remember; most of the controls are clustered around the WASD keys, and the mouse is used for aiming and firing your weapon. Z Sculpt developed its own software for managing input from game controllers, which you can download and install if you want to use a gamepad or another device besides the mouse and keyboard (you're prompted to do so if you click on the input preference). It works pretty well.
Return to Dark Castle has very modest system requirements, as long as you're running OS X 10.3 (Panther) or better. It should run on anything better than a 500MHz G3 or faster, and is a Universal binary so it'll even run natively on Intel Macs. What's more, a playable demo is available so you can give it a try before you plunk down $30.
Z Sculpt included a feature in the game that lets you record what's happening on-sceen while you play. You can also share these recordings with other Return to Dark Castle players. Z Sculpt also promised to release a level editor that will enable you to create your own screens. Hopefully it'll have a shorter development cycle than the 7-plus years it took for the game to be released.
That $30 price tag is my own major criticism of the game. I don't want to diminish Z Sculpt's effort on this game, or Super Happy Fun Fun's desire to support the Mac, but the bar has raised significantly in term of what we expect from a commercial or shareware release. Ultimately, Return to Dark Castle offers a lot of nostalgia value for old-school Mac gamers, but carries too high a price.
The bottom line
Return to Dark Castle is a lot of fun for gamers who remember this series from their younger days, but may not appeal to newer gamers who have grown up with more sophisticated gaming expectations. Now get off my lawn you young punks, before I call the cops.