Apple beat all comers in a Consumer Reports survey released Monday that rates the technical support offered by computer makers. Apple topped the rankings for both laptop and desktop support, beating out Lenovo, Dell, Toshiba, Gateway, Sony and HP.
Consumer Reports based its ratings feedback from owners of more than 4,500 laptop computers and almost 5,600 desktop computers who contacted manufacturer tech support between September 2006 and January 2008. Computer owners were asked to rate their experience based on three criteria: Whether the manufacturer solved their problem, how long they waited to talk with someone on the phone, and how knowledgeable the support staff were. Apple received the highest ranking of "Better" in all three areas for both laptops and desktops—the only company to do so.
Consumer Reports rated customer satisfaction with tech support on a scale of 0 to 100, with 100 being the most satisfied. Apple scored an 83 in the laptop survey and an 81 on the desktop side. A ranking over 80 means that respondents were very satisfied, according to Consumer Reports—Apple was the only manufacturer to top 80 in either category.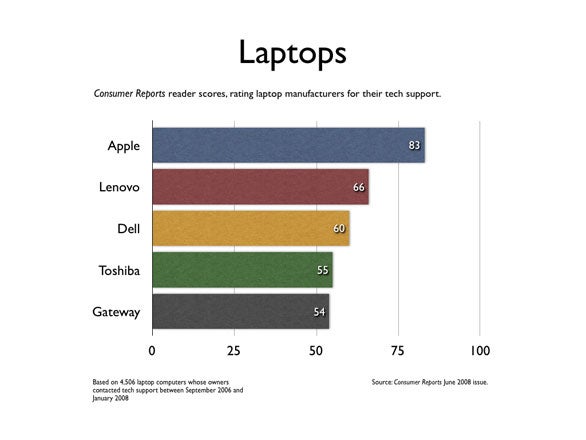 On the laptop side, Lenovo finished second with a score of 66, followed by Dell (60), Toshiba (55), and Gateway (54); Sony (51) and HP (48) finished sixth and seventh, respectively. For desktops, Apple's closest competitor was Dell, with a satisfaction score of 56. Gateway tallied a score 54 while HP and Compaq both tied with scores of 47.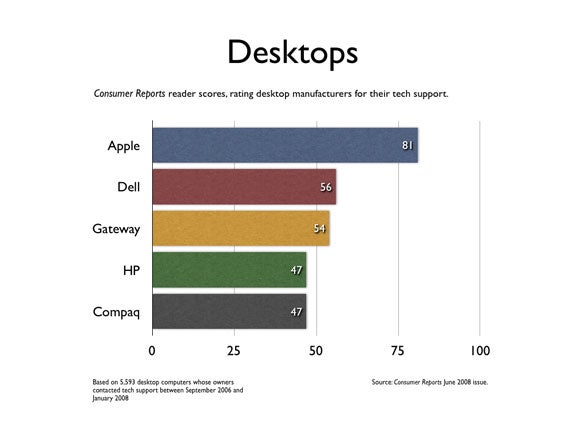 In particular, Apple ranked highly for the walk-in service that customers receive when visiting Apple's brick-and-mortar retail stores. The staff manning the Genius Bars at Apple's retail store provided "the best troubleshooting by far," according to the report, solving problems 90 percent of the time.
"The only drawback is if you're living somewhere that there isn't a store close by or if you're in a big city where the Genius Bar is likely to be really crowded," said Donna Tapellini, associate editor at Consumer Reports.
Still, Apple's strong showing would seem to validate the company's retail strategy of launching stores both in the U.S. and overseas. Since opening the first Apple Stores seven years ago, the company's retail presence has grown to 208 stores worldwide.
"It's one of those things that you can't do with any other brand," said Michael Gartenberg, vice president and research director at Jupiter Research, a market-research firm. "Other PC manufacturers don't have a chain of stores where you can expect someone to help you with your purchase."
That's not to say that other PC manufacturers don't have retailers who can't supply tech support, however. In fact, Tapellini noted that Consumer Reports last year studied the efficacy of retailer support compared to manufacturer support and found that retailers managed it better. "Circuit City's Firedog, for example, the Geek Squad at Best Buy," she said. "But the independent computer retailers were even better."
The Consumer Reports study shows a little room for Apple to improve its support, particularly over the telephone. Anyone can walk in to an Apple Store and get help from a Mac Genius regardless of how long they've had their Mac, but Apple limits its telephone-based support to 90 days from the date of purchase, unless you purchase an AppleCare plan, which can run as high as $349 for a MacBook Pro.
"They shouldn't let their tech support get any lower quality than it is," Tapellini said. "Especially if they're only offering 90 days of free telephone tech support, they need to keep that quality up."
"Apple should continue to build out the store infrastructure," Gartenberg added. "And they should continue to invest in customer training. They're doing many of these things in the store at little or no cost. Apple is becoming the Nordstrom of customer service in terms of technology.
"In an age where technology gets more sophisticated and consumers need more help, this bodes well for Apple," said Gartenberg. "This underscores the effort that Apple makes to help its customers."
The full report, which also includes buying advice for desktops, laptops, and all-in-ones, appears in the June issue of Consumer Reports; that publication's subscribers can also get it online at the Consumer Reports Web site.