Here's a puzzle that bedevils the traveler who looks to balance a little R-and-R with the demands of modern-life: How do you stay connected without hauling an entire suitcase full of electronica on your family vacation?
I've just returned from a week with my family at Disney's sprawling collection of theme parks in Orlando, Fla. And even though we were on vacation, all of us wanted to stay connected. A day at Disney means copious amounts of photos to upload and e-mails to send off to grandparents and friends informing them of our travels. And when you've got two teenagers in your four-person traveling party, you have a pair of traveling companions who want their own computer.
Well, that wasn't going to happen, even if I had four laptops to tote around with me. Instead, I came up with what proved to be a workable solution for staying in touch during our vacation: a MacBook Air and a pair of iPhones.
My wife and kids split usage of the Air. As soon as we would get back to the hotel from our Disney-themed day, my wife would upload the photos and work some iPhoto magic on them. Then she would upload them to Facebook and send out the notices to family and friends.
When I first wrote about the MacBook Air, I said it was a travel computer, and this trip just proved it for me. I didn't even need the external drive or Ethernet adapter—I connected to the hotel wireless and everything was set for the week.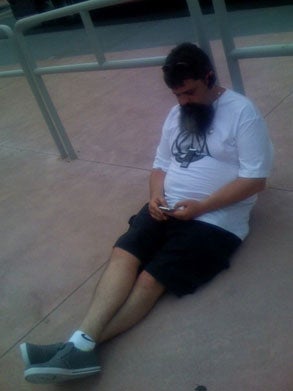 My kids did use the computer a little, but that's the beauty of having the iPhone—they really didn't need a dedicated computer. With Safari on the iPhone, my daughter could go onto Facebook and MSN whenever she wanted to be, without constantly asking when she could use the computer.
I tried my best not to do much work and I succeeded for the most part—try to time those iMac releases a little better in the future, OK, Apple? But since it's a pain to return from vacation and find thousands of e-mails waiting for you, I used my iPhone to manage my mail on the road, responding to the messages that were important and saving the others until I got back.
I also used the iPhone to issue Twitter updates from outside the roller coaster that my kids conned me to go on, answered the phone when my parents accidentally set off my house alarm and scheduled appointments via e-mail, all while sipping a cold Beck's beer in the Germany pavilion at Epcot.
Technology has come a long way in such a short time and it has changed all of our lives in so many ways. I can honestly say there was nothing quite like relaxing on my hotel balcony watching the sunset over Disney World and being able to tell my friends and family about it instantly with my iPhone while my wife uploaded pictures for everyone to see.