Devontechnologies has released updated version of its Devonthink software. Devonthink comes in Personal, Professional and Professional Office versions form $39.95, $79.95 and $149.95 respectively.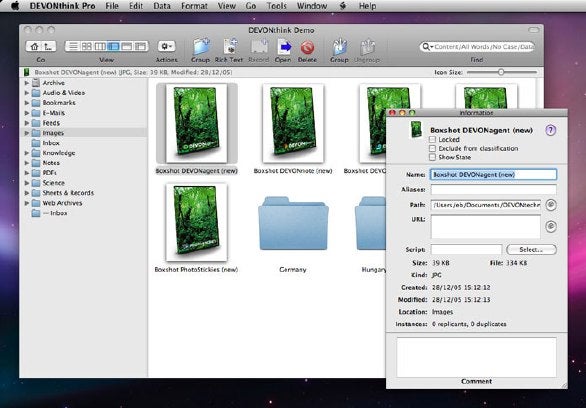 The Devonthink product line is a series of "personal information assistants" designed to help your organize documents, scanned papers, e-mail messages, notes and bookmarks. You can create RTF documents, cross-reference them, search, classify and show relationships between documents and more.
Devonnote is the most basic version of the Devonthink product line. Each version adds specific capabilities and functionality. Exclusive features of the Pro office edition include e-mail archive, scanner support, optical character recognition and Web sharing.
Devonthink Pro Office 1.5.2 reintroduces scanning support for flatbed scanners, and, for the first time, supports automatic document feeder (ADF)-equipped scanners. Such functionality was broken when users upgraded to Mac OS X v10.5.
The new Pro Office release also comes with a revised iPhone Web application and adds new preferences for enabling OCR and moving documents to the trash that have been converted to a searchable PDF.
All four versions — Pro and Pro Office 1.5.2, Personal 1.9.14, and Devonnote 1.9.14, feature minor interface and performance enhancements. Pro and Pro Office sport better AppleScript support, as well. Many bugs have been fixed.
All Devonthink apps require Mac OS X v10.4 or later. Demos are available.