High Tech Computer announced the HTC Touch Diamond on Tuesday, a smartphone running Microsoft Windows Mobile 6.1 Professional and with a touch screen designed for one-handed use.
The new handset is the next generation of HTC's popular Touch smartphone, which has sold over 3 million units in the 10 months since its launch. The Touch Diamond updates the series to 3G (third generation mobile telecommunications), beating rival Apple to the punch again.
Last year, HTC launched its first Touch handset nearly a month ahead of the iPhone. The Touch Diamond will be available throughout Europe starting in June, followed by Asia and the Middle East. The handset will hit North and South America in the second half of the year.
Apple has not said when it will launch a 3G iPhone, but industry analysts expect one within the next few months.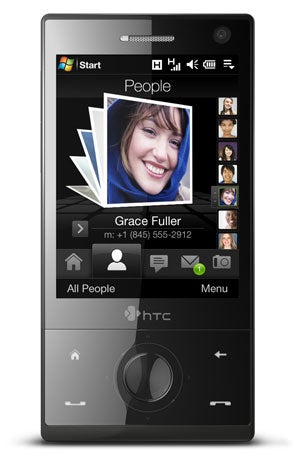 The HTC Touch Diamond works on WCDMA (Wideband Code Division Multiple Access) networks and offers data rates up to 7.2M bits per second using HSPA (High Speed Packet Access) thanks to a chipset from Qualcomm.
HTC CEO Peter Chou is so excited about the Touch Diamond that he predicts it will be an even bigger seller than the original Touch. "This is going to be the biggest product of my life," he said by phone from London.
HTC's focus on improving touch-screen technology on the Touch Diamond's 2.8-inch, 640 pixel by 480 pixel display pays testament to how serious it is about competing against the iPhone.
The company revamped its TouchFlo software to make give a 3D effect to screen images. People can access photos, music, messages, use push-e-mail and more on the touch screen.
The company also upgraded the Web browser, which is built on an engine from Opera Software but was designed specifically for HTC. The browser fits the screen, and users can zoom and pan Web sites with one hand. Turn the device sideways, and the view automatically rotates as well.
The Touch Diamond includes customized applications for watching YouTube videos and using Google Maps for map and traffic data. The handset has a GPS (Global Positioning System) receiver.
The 3.2-megapixel camera with auto-focus allows video-calling.
Despite the big screen size, camera and other features, the Touch Diamond is small, just 102 millimeters by 51mm by 11.33 mm.
The HTC Touch Diamond also boasts Bluetooth for wireless data transfer, Wi-Fi 802.11b/g for wireless Internet access. The battery on the device is rated for 4 hours of talk time.
One area where Apple's iPhone still has the edge is in data storage: the Touch Diamond has only 4G bytes of flash memory for storing music and videos, compared to the iPhone's 8G bytes or 16G bytes.