As a wise man once said, "Starbucks giveth and Starbucks taketh away." Scant days after iPhone users reported finding free access at certain coffee chain locations that had switched to new Wi-Fi provider AT&T, that feature now seems to have vanished into the ether.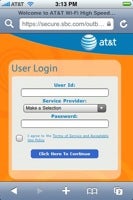 I revisited the Davis Square, Somerville, location at which I'd found free access last week. Instead of the login screen that readily accepted my iPhone number, I was greeted by a user login screen asking for a user ID and password. While there didn't appear to be an option to sign-up for Wi-Fi access on my iPhone, the login screen seems to accept a variety of user credentials, from AT&T Wi-Fi users to AT&T Remote Access users and customers of a variety of AT&T subsidiaries and services, such as Prodigy, SBC, and SNET.
The reasons behind the disappearance are no less vague as those behind the initial free access. An AT&T spokesperson I talked to declined to comment, and Starbucks did not reply to a request for comment. While it's possible that this may merely be a matter AT&T initially turning on this service earlier than intended, there also may be a more technical explanation to the service's disappearance.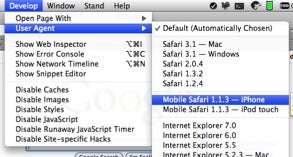 The system AT&T was using to detect iPhones relied on reading the client's User Agent, a plaintext string that identifies the browsing software and platform of the device. That string, however, is extremely simple to alter—for legitimate reasons; it's often used by web developers for compatibility testing. Safari users, for example, can masquerade as an iPhone merely by checking a box in the preferences to enable the Develop menu and then selecting the appropriate option from the User Agent sub-menu.
Some have speculated that the ease with which users could obtain free access for their laptops and other devices may have led to AT&T shuttering the service, though whether that decision is temporary or permanent is unknown. We'll continue to follow the story, keeping you posted on any new developments.