At a Glance
Expert's Rating
Our Verdict
To save energy—and prolong the life of my displays—I have Mac OS X set up to sleep my displays after a few minutes of inactivity. This feature works well, but there are times when it's inconvenient. For example, when I'm watching video in a Web browser, shows I've recorded using EyeTV, or Tivo-transfered video in Toast Video Player, I'm not moving the mouse; OS X sees this as "inactivity" and dutifully dims the display.
In such situations, you can manually go into Energy Saver preferences and disable display sleep, and then re-enable it later, but that's a hassle. A solution I previously covered is Jiggler, which wiggles—or, if you will, jiggles—your mouse cursor periodically to prevent your Mac from going to sleep. But Jiggler is intended for times when you're not actually sitting at your computer; it can be distracting to see your mouse moving around when you're trying to watch a video.

Another solution is Drifting Light's Jolt 1.0 ( ; free or $5), which provides a systemwide menu-bar icon that lets you temporarily disable display sleep. A quick click on the Jolt menu icon enables the default no-sleep mode of five minutes; the menu icon turns red for the duration of the effect. You can disable no-sleep mode early by clicking the menu icon again.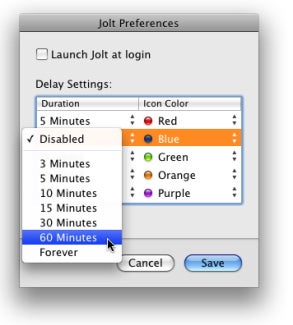 If you pay $5 for the full version of Jolt, you get five configurable no-sleep modes; you can customize the duration of each as 3, 5, 10, 15, 30, or 60 minutes, or "Forever" (the last essentially meaning "don't sleep the display until I manually disable no-sleep mode"). A nice touch is the capability to customize the Jolt menu icon with a different color for each mode; for example, the icon can be Orange for 60 Minutes and red for Forever, so it's easy to determine which mode you've enabled.
However, accessing these options, and enabling a mode other than the default, isn't obvious. Since clicking on the Jolt menu-bar icon toggles the default mode on and off, viewing Jolt's menu and accessing its preferences dialog requires you to Command-click on the icon. And I wish the customizable durations were more customizable; for example, if I'm watching a movie, I want to disable screen dimming for longer than an hour. A two-hour mode and a mode where you could enter a specific duration would be welcome improvements.