Apple and NBC Universal engaged in one of the more spirited feuds of 2007, when the two companies parted ways over pricing at the iTunes Store. While NBC programming remains absent from the U.S. version of Apple's online digital media store, the two companies could be taking steps to resolve their differences—at least on the other side of the Atlantic.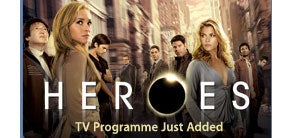 As of this past Tuesday, episodes from five series produced by Universal Media Studios, the production arm of NBC Universal, were available for purchase on the U.K.'s version of the iTunes Store: Heroes, House, The Incredible Hulk, Eureka, and Hercules: The Legendary Journeys. Notably, the shows are available for two different prices—current programs Heroes, House, and Eureka sell for the standard iTunes UK rate of £1.89 an episode while the older shows cost £1.19 each.
The variable pricing should raise eyebrows, as that's the issue that was rumored to be at the heart of the Apple-NBC spat that boiled off last August. Media reports at the time suggested that NBC wanted to increase prices for popular programs by either raising the per-episode price or packaging it with other content. Apple has opposed most forms of variable pricing at the iTunes Store, with the notable exceptions of new movie releases and DRM-free music.
The situation boiled over in August 2007 when Apple announced its intention to not offer new fall seasons or shows from NBC, well ahead of the December 2007 expiration date for NBC's iTunes contract. At the time, Apple said it refused to agree to a cost hike that it claimed would have increased prices to $4.99 per episode. NBC contended that it wanted to offer a variety of pricing options, but was blocked by Apple.
None of that acrimony surfaced this past week, when NBC shows began appearing in the U.K. "We're pleased that NBC Universal has joined the iTunes Movie Store and that their TV shows are available on the iTunes Store in the UK," said Adam Howorth, Apple's Head of Music PR for Europe when asked to comment. NBC Universal did not reply to a request for comment.
While the frosty relations between the two companies appear to be thawing in the U.K., NBC remains largely absent from the U.S. store, as it has since December when most NBC programming disappeared from iTunes. The online store continues to sell some shows that air on NBC networks but are produced by other companies, such as Scrubs and Chuck.
Meanwhile, NBC has focused its efforts on its own digital streaming site, Hulu. Earlier this week the network announced a deal with Microsoft to bring its television content to the Zune Marketplace, the store that feeds Microsoft's digital media player.
In a statement from Microsoft, NBC's JB Perrette, president of NBC Universal Digital Distribution, said that the deal offered NBC flexible packaging and pricing options. Despite that, episodes of NBC's shows will sell for 160 Microsoft points on the Zune Marketplace—roughly equivalent to the $1.99 they went for on the iTunes Store.
NBC has not been completely ignoring Apple in the U.S., however. Earlier this week, the network made full episodes of two of its popular shows, 30 Rock and The Office, available for iPhone and iPod touch users to watch online for free. The episodes reside on a slimmed-down site and are encoded in a QuickTime format compatible with those devices.
Note: When you purchase something after clicking links in our articles, we may earn a small commission. Read our affiliate link policy for more details.