The competition between Parallels Desktop for Mac and VMware Fusion in the OS X virtualization niche has been very good for consumers. Both developers have added features at an amazing rate since their products' respective debuts.
The latest salvo was fired by VMware, which released the first public beta of VMware Fusion 2.0 on Tuesday. The company says that this new version will be a free upgrade for all existing Fusion customers. (Ain't competition grand?)
Before I dive into the new features in Fusion 2.0, however, it's worth noting that this really is a public beta, and I would not recommend installing it on a production machine—as it stands now, there are quite a few known issues with Fusion 2.0, and it's quite possible you will experience crashes and potentially some larger issues with your virtual machine (VM) files. While writing this article, in fact, I experienced a couple of crashes with Fusion 2.0, though none that affected the VMs. In an era when the "beta" tag gets slapped on a lot of perfectly useable products, sometimes we can forget that, for some products, beta really does mean beta. This version of VMware Fusion is one of those products.
The other problem with installing the Fusion 2.0 beta is that it overwrites the existing copy of Fusion; you can't keep both versions installed. So really, unless you have a dedicated test machine or partition, I wouldn't recommend installing the public beta—at least not this first release. But that's why I'm here—I've upgraded to Fusion 2.0 and have been using it since Tuesday morning. I'm risking my virtual machines so you don't have to—OK, so it's a minimal risk, and I do have backups just in case things go horribly wrong.
So what's new and improved with VMware Fusion 2.0? The first thing I noticed was a new virtual machine management window that makes it much simpler to manage your collection of virtual machines: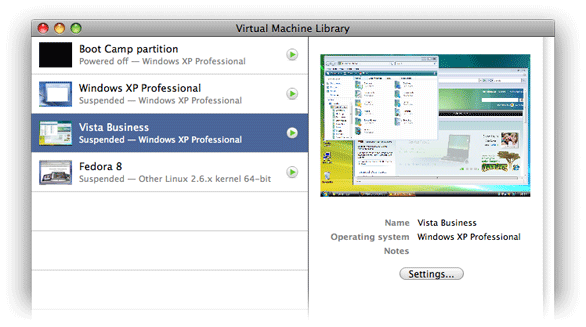 This snapshot window shows you at a glance exactly which virtual machines you have installed, as well as their current state. In the image above, Windows XP on my Boot Camp-based VM is shut down (black screen), while the three other VMs are in a suspended state. The thumbnail image shows where you suspended the VM—when you select a VM, you see a larger version of the screenshot, along with an area (not yet functional in beta 1) for you to include specific notes on the VM you've selected. You can also set a given VM to automatically start when you launch Fusion, drag VMs directly to the trash from this screen, and find "lost" VMs—those whose location on your Mac you've forgotten—through a handy Show in Finder contextual menu option.
Fusion 2.0 also includes true multi-display support. When running in full-screen mode, if you're using a machine with multiple monitors, you can have Fusion use all of your monitors for its VMs. I tested this in both XP and Vista, and it worked as described—though seeing nothing but Windows on both my screens was a bit of a culture shock. You can also use both monitors in Unity mode—that's the mode where Windows' applications exist outside the Windows workspace and float freely amongst your OS X windows. In prior versions of Fusion, Unity windows were restricted to your main display, but with 2.0, they can be freely dragged onto any display.
Unity mode has a number of other improvements. You can launch and suspend VMs in Unity view and quit Windows applications directly from the Dock—Unity windows know about the Dock's size and location and won't resize underneath it. That's something that has bothered me quite a bit in the current version of Fusion.
Another nice improvement can be found in the Settings panel, which is used to configure the VMs. In prior versions of Fusion, the options for the VM were listed down the left side of the dialog box, with the various settable values on the right. In Fusion 2.0, there's an overview screen, and each setting is then on its own pane, much like OS X's System Preferences. This makes it much simpler to find what you're looking for, as seen below: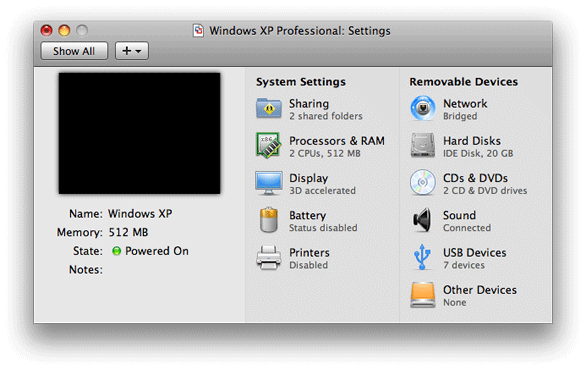 You can also access the Settings panel from any of Fusion's views (Single Window, Unity, and Full Screen). Shared folders, which are created using the Settings panel, have also received a makeover—it's now much easier to set up and manage shared folders in the new interface. That's a good thing, as setting them up in the first version of Fusion wasn't as simple as it could have been.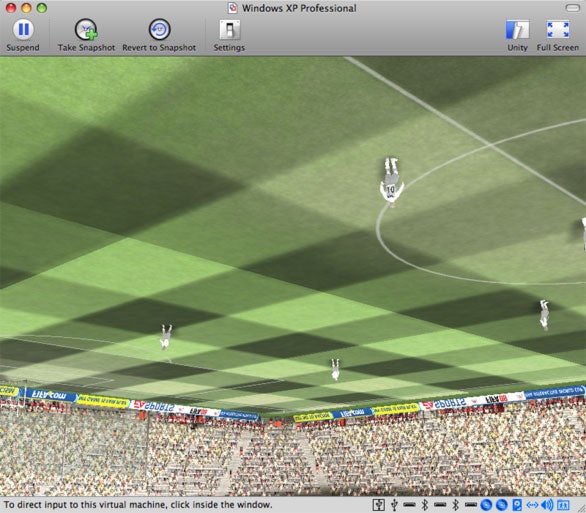 Fusion also promises a better virtual gaming experience, with experimental support for DirectX 9.0 Shader Model 2 3D acceleration. This should allow Fusion to play quite a few more modern games, though it remains to be seen how well they'll run. As a test, I installed the demo of EA Sports FIFA'08 soccer game. The installation and setup went fine, but when I went to run the game, there was just one small problem, as seen in the screenshot to the right (click for a larger version).
After I turned my monitor upside down and watched the display in the mirror, everything worked fine, though. OK, I didn't really do that. The graphics speed looked good, even if things were upside down and backwards, and the audio played with only a couple of minor skips here and there. Given that I was running Fusion alongside a few other programs including Photoshop, Firefox, and Smultron, I was impressed by how well the game seemed to be running. Issues such as this one will hopefully be worked out as the beta receives updates prior to its release as a final product.
Performance in Beta 1 seemed good in XP, Vista, and Fedora; loading from a suspended state seems to go a bit quicker than before, but I didn't run any quantitative comparisons on this beta release.
There are other less obvious yet important changes in Fusion 2. Printer support, for instance, is now automatic. The VM will automatically pick up your configured Mac printers, including which one you've set up as your default printer. If you're making the move from Parallels (or even the old Virtual PC), the new VMWare importer makes the move a one-click operation, at least according to VMware. Rather than actually converting the other VM, Fusion creates a brand new VM based on the data in that VM, meaning you can then continue to use both the old and new VMs—license agreement allowing, of course. Boot Camp partitions can also be imported, which turns them into true VMs, with support for snapshots and suspend/resume features.
There are improvements in USB support, with more speed across the board and sync support for Blackberry Pearl devices. Networking received a lot of attention as well, with improvements in bridged mode, which is now aware of the status of your Mac's network connection, allowing the VMs to automatically refresh their addresses when needed. You can browse for Bonjour printers in NAT network mode, and NAT performance has improved.
There are additional changes, along with a number of bug fixes, and we'll be looking at everything in detail once the final version of VMware Fusion 2.0 is released. For now, if you have a test partition or machine on which to install it, the public beta offers a good chance to get your hands on the new features early.
[Senior editor Rob Griffiths reviewed VMware Fusion 1.0 for Macworld.]