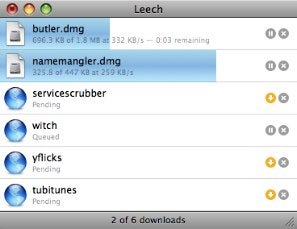 Many Tricks on Wednesday announced the release of Leech, a new download manager for Mac OS X. It costs €9.95 (US$15.44).
Leech enables you to control downloads, queuing them, pausing and resuming downloads, downloading from password-protected servers and storing passwords using your system keychain.
Key features in Leech include the ability to limit the number of concurrent downloads, mark URLs for downloading without initiating the download yet, shutting down the computer after downloads are finished, and support for drag and drop.
System requirements call for Mac OS X v10.5 or later, 2.2MB hard disk drive space and an Internet connection.