Mophie announced the release of Juice Pack, the first "Works with iPhone" certified battery extender on the market. While other vendors have released iPhone-compatible accessories for charging the phone's battery, devices that receive Apple's official certification ensure optimal connectivity with the iPhone.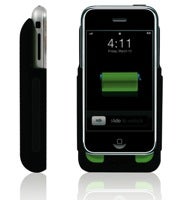 The Juice Pack is a ergonomically-shaped sled with a non-slip finish designed to fit the iPhone like a case. It attaches to the iPhone's dock-connector port, providing additional battery power. The Juice Pack is rated for up to an additional 250 hours of standby time, 8 hours of talk time, 6 hours of internet use, 7 hours of video playback, and 24 hours of audio playback.
The Juice Pack also has four LEDs to indicate the device's charge level. It provides its own 30-pin dock-connector port for charging the iPhone's battery with the Juice Pack still attached, though you cannot use the Juice Pack's dock-connector port to sync the iPhone.
The Juice Pack is available from Mophie's online store and retail stores for $99.95.
[Updated on 5/8 to clarify the Juice Pack's dock-connector port functionality.]