No, no, Ernesto: this one goes here, that one goes there. Sorry, folks. While it's true that in most regards, penguins make incomparable valets, they are rather rubbish when it comes to packing suitcases. You know, penguin arms.
Yes, as you can tell from the luggage, I am off. Today marks my sixtieth and—for now, at least—final Gadgetbox column, after over two long years in the technological trenches (including the almost 800 blog posts I penned in our first incarnation). I ask you not to shed a tear, as there are greener pastures awaiting me outside of the chiseled stone walls of this volcanic lair. Far, far outside.
If you've followed my meanderings for a while, you know that there is one singular thing in this world that I love, above all else. And that is Richard Dean Anderson. So when rumors of bringing MacGyver to the big screen reached the ears of my agents, I naturally decided that there was no other choice but to make my way to Hollywood. And so I go, with Ernesto and three trunks full of my favorite tech and non-sequential unmarked bills, in tow.
But I will not leave you empty handed. Far from it. My parting gift to you, three gadgets that hold places near and dear to my heart. Love them, enjoy them, savor them until we meet again.
Breakfast of convergence champions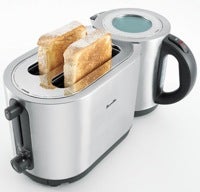 This may be the ultimate evolved form of humanity. We all know that breakfast is the most important meal of the day, and of course the most important part of breakfast is toast. Its sweet, sweet carbohydratey goodness keeps us energized and fulfilled all the way until that distant lunchtime. And, of course, what better accompaniment to toast than the drink of the gods themselves, *tea*.
So, having combined the means for creating these two delectable consumables into one shiny stainless steel package, it's no surprise that the Breville BKT500 ikon Kettle & Toaster netted an Australian International Design Award. Look at that engineering! And the design touches. Did your toast come up a tad light? Then hit the "A Bit More" button for a little extra browning. The one liter kettle features an anti-scale filter and a clear water gauge. And there're extra wide slots that center the toast so it browns evenly. This, my friends, this is Progress.
Of course, it's mainly available in Australia, where it'll run you AUS$129.95 (about US$122). But that just adds one more bullet on the list of reasons for me to head down under (current reasons include wombats, Flight of the Conchords, and Tom Selleck). Perhaps a short trip after we reach Hollywood.
[via Ubergizmo]
Lasers, at dawn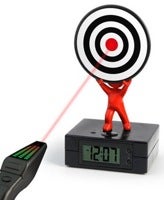 It's been a while since we've had a good alarm clock here on the 'box. Well. Okay, maybe "good" is a bit strong. But look, if you've ever wanted a career in espionage, law enforcement, or just plain gunslinging, then you need to train constantly. Target practice in the morning, target practice in the evening, target practice—well, you get the idea.
The Laser Target Alarm Clock is here to help you achieve those dreams. After all, anybody can just hit an alarm clock's off button, but it takes someone with genuine aptitude—and a laser gun—to defeat the Laser Target Alarm Clock. In order to hit the small photosensitive bullseye, you're required to maneuver the gun's beam straight to the target area—which, let me tell you, is far less than two meters wide. Until you do so, the alarm will continue to sound, driving you, your significant other, family, and neighbors to a level of annoyance usually reserved for battles over hedge-trimming.
But consider this: if you can hit the target with bleary-eyed, smelly-breathed accuracy, then not only are you ready to face the day, but you're probably in the wrong line of work. Want to find out? It'll cost you just $38.
[via Red Ferret]
Laser screwdriver vs. sonic screwdriver: only one can win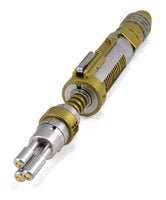 What would the last Gadgetbox column be without some mention of our patron saint, the Doctor? Today being our final installment, we decide to turn tradition on its head and salute the Doctor's infernal, eternal nemesis: the Master. He is the dark to the Doctor's light, the evil to his good, the Vader to his Luke. And just as the Doctor has his own tools, the Master has a twisted, corrupted version of the same. In place of the sonic screwdriver, witness the awesome power of the Master's laser screwdriver.
You may wonder precisely how one can drive screws with a laser. Well, truth is it's only really good at unscrewing them. Where by "unscrewing," you mean "melting". The Master's laser screwdriver, which measures in at 7.75″ in its compact form and an astounding 8.5" fully extended, offers authentic sounds and light effects and includes the three required AG13 cell batteries for full operation. Pushing the control button once will extend the screwdriver, and a second time will fire a simultaneous laser blast from all three emitters, enough to vaporize even the peskiest humans.
Opposites, of course, define us. So we welcome the Master's laser screwdriver insofar as it thus, by logical conclusion, requires the existence of the Doctor. So, please, pony up the $19 for the laser screwdriver—it's just the beginning of your inevitable downfall.
[via Gizmodo]
And that, as they say, is all she wrote. I hope to see you again, someday, but remember: if you ever get lonely or scared, life and all of its joys are just one big cycle. And you can always start back at the beginning.