Elgato has released an update to EyeTV, its TV recording software for Mac OS X. A free update for registered version 3 users, EyeTV costs $79.95.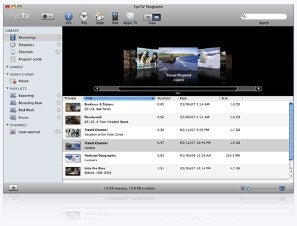 EyeTV enables you to watch TV on your Mac when used with a compatible hardware tuner. It also lets you search for programs you want to view, create smart playlists, edit out unwanted content and create clips, and export to popular file formats (including ones that will let you watch on your iPod or iPhone).
New to the 3.0.2 release is the ability to view digital television broadcasts encoded using the H.264 compression standard. ATSC/NTSC (North American broadcast) closed captions now support QuickTime format exports; the tvtv electronic programming guide now supports Sweden; separate deinterlacing options have been enabled for Standard TV and HDTV; the text used in on screen menus has been updated for improved readability; a badge is now displayed over the thumbnail of recordings that have not been viewed; and support has been added for new DVR interfaces, including TerraTec's Cinergy T USB XXS and the Digital Everywhere line of FireWire products. Bug fixes have also been made.
System requirements call for a G4 or better (Intel included), 512MB RAM, compatible TV tuner, Mac OS X v10.4 or later.