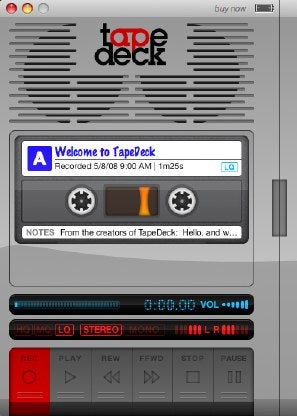 SuperMegaUltraGroovy and Toastycode on Friday announced the release of TapeDeck, a new audio recording application for Mac OS X v10.5 or later. A demo is available; the full version costs $25.
TapeDeck carries with it some retro charm — it's designed to look like a cassette tape deck, and even operates like one, complete with a tape deck-style interface. It's designed to quickly capture recordings, stored as "tapes," recorded directly to MP4-AAC audio. TapeDeck is aimed at users who want to make band recordings, practice speeches or capture lectures, according to the developers.
Each recording is saved and organized in a searchable "tape box." You can also write notes and send recordings to iTunes and an iPod/iPhone. You can put titles on your tapes, and make the note content searchable in Spotlight and Quick Look.
Eye candy in TapeDeck includes line level meters, rotating cassette spindles, animation for live search and user interface sound effects.
The tape deck emulation even goes to the demo, which sports two weeks of "gradually declining battery life" and low-quality recordings.
System requirements call for Mac OS X v10.5.2.