The Pixelmator Team on Monday announced the release of Pixelmator 1.2, an update to their image editing software for Mac OS X. A free update for registered users, Pixelmator costs $59 to register. A trial version is available.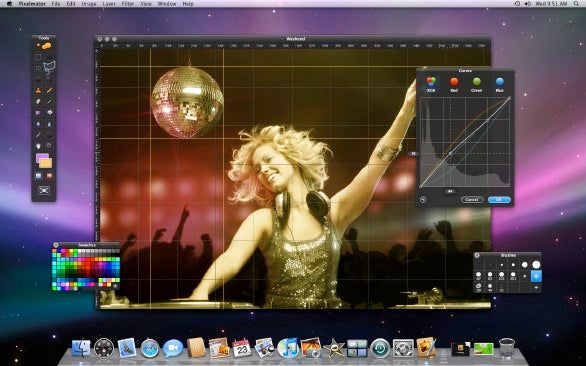 Pixelmator is an image editing application that incorporates selection tools, painting tools, retouching tools, layers and color correction capabilities, typography elements and filter-based effects. Pixelmator is designed to work using Apple's Core Image technology, which is built into Tiger and Leopard, so it heavily leverages the graphics card or chip in your Mac.
Code-named "Draftsman," this release of Pixelmator introduces a Rulers tool, to help more exactly position images and elements. You can adjust the ruler's origin to measure from a specific point, and it supports various measurement units including pixels, inches, centimeters, millimeters, points, picas and percent. Nonprinting guides can be used, and elements can be "snapped" into place to position selection edges.
New adjustment options have also been added like a curves tool to adjust the tonal range or the ability to make adjustments to specific color channels. A new color balance tool has also been added, along with a new "auto enhance" tool and new polygonal lasso tool.
Other changes include updated Help documentation, enhanced Automator actions and transform tools, some user interface tweaks and compatibility improvements, along with some bug fixes.
Pixelmator requires Mac OS X v10.4.9 or later (10.5 recommended).