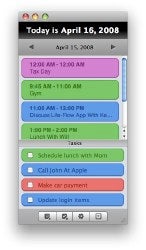 Second Gear on Monday announced the release of Today 1.1, an update to their iCal event and task management software. A free update for registered users, Today costs $15. A demo is available.
Today enables you to more effectively manage the events and tasks you keep track of using Apple's iCal software. It lets you glance at your upcoming schedule for the day, assign a keyboard shortcut, reschedule meetings and add quick tasks more easily than you can do with iCal.
New features and enhancements in the 1.1 release include the ability to filter what calendars appear in Today's window; the ability to assign a location for new events; new events and task due dates now default to the day you're viewing; an updated appearance for all-day events; performance improvements specifically for heavy calendar users; and various bug fixes.
Today requires Mac OS X v10.5 or later and 3.6MB hard disk drive space.