There comes a time in any music project when you have to make a decision on what gear you are going to use and go with it. I've reached that stage in my album-recording project—when it comes to a digital audio workstation, I'll be using Digidesign's Pro Tools for my final recordings.
Pro Tools is the industry standard in audio recording, so it made a lot of sense for me to work with it. Over the years, my coverage of music software has given me the chance to talk to some of the industry's top audio engineers about how they go about their business; more times than not, they are using Pro Tools.
I'm using the Digidesign 003 Factory and Pro Tools LE 7.4. The 003 Factory is more than just an audio interface to route your instruments to the Mac—it allows you to completely control Pro Tools without touching the computer's keyboard or mouse.
Among its features, the 003 has eight motorized faders and eight rotary knobs to control pan, send, meter and plug-ins. This means that whenever you move a fader on the 003 console, the corresponding fader will move in the software. That's a huge time-saver. I never knew how much time I wasted and how uncomfortable I was trying to manipulate everything using the computer. Of course, I still use the computer for the more intricate editing of waveforms and plug-in settings, but for the recording, mixing, and navigating of my song projects, there is nothing like having a console. The console also has a built-in screen so you can easily tell which fader controls a particular channel.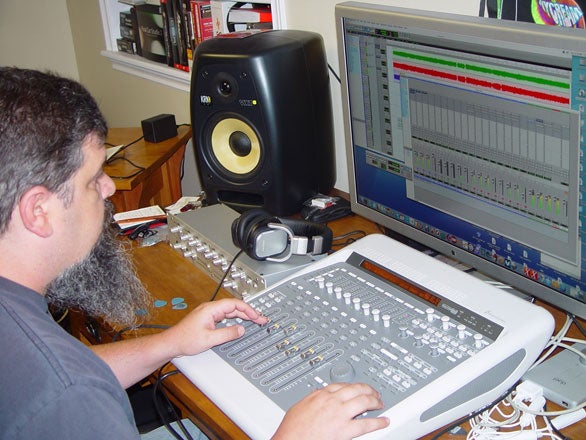 The 003 is capable of 24-bit/96 kHz resolution with eight analog inputs and eight analog outputs. That is quite a few inputs, but it still wasn't enough for the number of mics and instruments I wanted to have.
M-Audio Octane
To boost my inputs, I'm using an M-Audio Octane eight-channel preamp. The Octane connects to the 003 using ADAT (Alesis Digital Audio Tape), which is a form of an optical interface, also called Lightpipe. The ADAT connector is an optical cable similar to what you would use when hooking up an optical audio signal to your home stereo.
The ADAT connector on the Octane allows me to bring all eight channels into the 003 and out to Pro Tools with a single cable. That is very convenient.
I ran into one problem connecting the Octane to the 003. Whenever I had an instrument plugged into the Octane, I would get a popping sound every 10 seconds or so. If you have the Octane's sample rate set to 44.1kHz, you will need to set the clock source of Pro Tools to optical, not internal. When I did that, the problem went away.
Pro Tools 7.4
I'm in my first year using Pro Tools, so I was a bit worried about my ability to manage my projects and manipulate audio without going through a huge learning curve. It turned out not to be bad after all.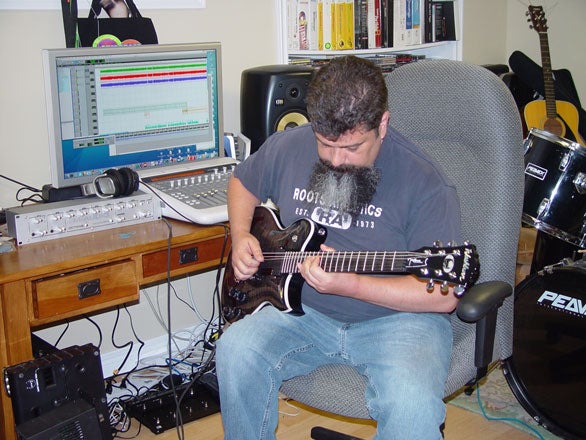 With my experience using Logic and Cubase, I knew what I wanted to do, so I just needed to figure out how to do it in Pro Tools. I spent the first little while duplicating projects and then practicing on the most common things I do with audio, just to get the hang of things. Obviously, I still have a lot to learn in Pro Tools, but I'm making progress everyday.
Since I do a lot of songwriting work in GarageBand, I use Open Media Framework to move GarageBand projects into Pro Tools. Specifically, I open the GarageBand file in Logic and export it as an OMF file and then import it into Pro Tools. Once all of the songs are written, I'll get the band together and we will record everything in Pro Tools, but it's nice to be able to make the changes I want in the song now.
Now, a word about pricing: The $2,495 Digidesign 003 Factory and $750 M-Audio Octane certainly aren't gear that a beginner or casual musician would need. But if you feel like you've outgrown a one- or two-input audio interface, these products offer lots of advantages. If you find yourself doing frequent recordings like I'm doing, the ability to have so many inputs at your disposal and have complete control over your system is worth the price.
Let's close with a few housekeeping notes. We have an RSS feed that you can add to your favorite newsreader to keep up to date with the album project, or you can go to the Creative Notes Blog section to see past articles. I also set up a Facebook group that you can join to chart our progress.