Apple's iPhone has gone missing from most retail shelves, fueling speculation that the arrival a new version of the mobile device—possibly featuring support for faster 3G wireless technology—is imminent.
Following last week's announcement by O2, the iPhone's exclusive service provider in the U.K., that it had run out of iPhones, U.S. customers reported similar shortages. Over the weekend, Apple's online stores in both the U.S. and the U.K. listed the 8GB and 16GB models of the handset as "currently unavailable."
"We are currently out of stock," Apple spokeswoman Natalie Kerris confirmed on Monday.
That goes for brick-and-mortar Apple Stores as well. Macworld called five Apple Stores located across the U.S. The stores in New York, Chicago, San Francisco, Cambridge, Mass., and Palo Alto, Calif., all confirmed that their iPhone offerings had dried up.
"We don't have either [model]," said a sales representative at Apple's flagship Fifth Avenue store in New York City. "At this time we don't have any info on when we'll get them." Sales personnel at other locations suggested that additional iPhones could be in stock as early as Tuesday, though they strongly suggested that customers call to confirm availability before heading to the store.
U.S. customers looking for iPhones aren't totally locked out, however; Macworld also contacted AT&T stores near each of the Apple Stores we polled. Four of the five stores reported that they had both 8GB and 16GB iPhones in stock; the AT&T store in Palo Alto only had 16GB phones available.
That's a contrast to the U.K., where iPhones are out of stock both through Apple and its partners. Besides O2 reporting that it was out of iPhones, Carphone Warehouse, a retail partner in the U.K., says that it's out of stock for both models.
Signs began pointing to a constrained iPhone supplier in recent weeks. During an April conference call to discuss Apple's second-quarter earnings, Chief Operating Officer Tim Cook acknowledged that the company's U.S. stores had been experiencing an inventory shortfall earlier that month, which he attributed to higher than forecasted demand in the post-holiday buying environment.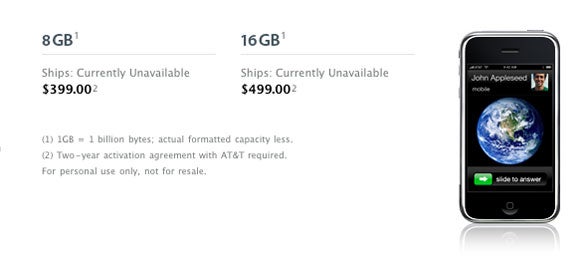 Given Apple's oft-stated goal of selling 10 million iPhone by year's end, the assumption gaining favor on the Internet is that iPhone supplies have dried up as Apple readies a new version of the phone, with a release likely to come in the next few weeks. "It would be the kind of thing that would naturally precede the introduction of a new model," said Ross Rubin, director of analysis at market-research firm NPD Group.
A second-generation iPhone, likely incorporating high-speed 3G wireless technology, is widely expected to make an appearance soon. Hints have been dropped over the past year by both AT&T CEO Randall Stephenson, who said last November that a 3G iPhone would show up "next year," and AT&T Wireless chief Ralph de la Vega, who said during April's CTIA Conference that "our integrated devices [will] be 3G devices in the not-too-distant future, and I mean months."
While Apple has kept characteristically mum about its roadmap for future products—the company declined Monday to comment about the latest round of speculation—it has not been secretive about its plans to expand further into Europe and into Asia this year. Already, a slew of carriers have announced deals with Apple in recent weeks to bring the iPhone to countries such as India, Australia, and Italy. In the case of Italy, reports from media in that country have suggested that 3G compatibility was part of the deal negotiated between Apple and local carriers.
Regardless of the details of those agreements, it's no secret that many of the countries Apple is entering or plans to enter soon have more widespread and mature 3G coverage than what's currently available in the U.S. (Earlier this year, though, iPhone partner AT&T announced it planned to expand its 3G service to more U.S. cities.)
"It's a natural fit for a product that's marketed on the strength of its internet presence," Rubin said. "AT&T has also made strides in developing its 3G network, so now would be a sensible time to introduce it."
A look at the calendar also adds fuel to the rumored update fire. June not only marks the first anniversary of the iPhone's launch, it also brings Apple's annual Worldwide Developers Conference, where Steve Jobs traditionally delivers an opening keynote. The iPhone figures to be a major focus at WWDC, since Apple has promised to deliver iPhone 2.0 software in June that will add native applications to the handheld device. WWDC begins in San Francisco on June 9.
And that poses a challenge for Apple. The June 9 keynote is still several weeks away, meaning a potentially month-long gap between the disappearance of the current model from retail shelves and potential arrival of a new iPhone.
"There is certainly some concern about that," said NPD Group's Rubin. "You don't want to be in a situation for too long without available stock. Perhaps the benefit will be if they are not selling many older models the day before a release, they will keep that buyers remorse to a minimum."
Indeed, Apple has been stung by such remorse in the recent past. The company cut the price of the 8GB iPhone by $200 in September 2007, a little more than two months after the phone's debut. After a sharply negative reaction from early adopters, Apple wound up offering a $100 credit to people who bought the iPhone in its first two months of release.
Other potential reasons besides the forthcoming release of a new model could explain the sudden dearth of iPhones. "It's either component shortages or a deliberate sell-off before another iPhone is introduced," said Avi Greengart, Research Director for market research firm Current Analysis. "It really might be a component shortage—that happens, although I'm not aware of any issues of that type."
But when it comes to Apple's explanation about higher than expected demand, the situation doesn't seem to add up, analysts say. "Certainly there were some shortage issues during the initial release, but nothing too severe," Rubin said. "Supply has been consistent since then and it would be unusual to have a surge in demand at this point."