When Apple ships its iPhone 2.0 update—and the accompanying App Store for distributing third-party software for the phone—you won't have to wait too long for native iPhone apps built by Google programmers.
"We expect to have applications at Day One," said Vic Gundotra, Google's vice president of engineering.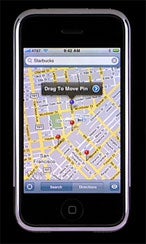 Then again, that's hardly a surprise for iPhone users—Google's contributions have been a part of the iPhone since the mobile device was unveiled. Google's Maps feature played a central role of Steve Jobs' first iPhone demo at the January 2007 Macworld Expo. When the phone shipped that June, it included an application for accessing and viewing videos from Google-owned YouTube. Since the phone's launch, Google debuted an optimized Web-based app that makes tools like Gmail, Calendar, Reader, and others available to iPhone users who go to www.google.com via the phone's Safari browser.
Google has certainly benefitted from its close ties with the iPhone, which Gundotra calls "the pre-eminent phone in the world." And the phone's initial reliance on Web-based apps certainly fell right in Google's wheelhouse.
But the way Gundotra sees it, the entire mobile industry stands to benefit from what Apple has done with the iPhone.
"Google has many Web-based applications we would like to be available in mobile form, but we have two challenges," Gundotra said. "The mobile platform is not as technology capable as the desktop. And the mobile platform is unbelievably fragmented." Unlike desktop computing, which features a few dominant browsers, the mobile world is a mishmash of incompatible formats, forcing developers to create separate versions of their programs for each platform.
Apple addressed that with the mobile version of Safari, which Gundotra hailed as "a better mobile browser than anyone had ever delivered before." And Gundotra believes other phone makers will follow Apple's lead and adopt WebKit-based browsers of their own, tackling the problem of fragmentation in the mobile phone market.
"Apple's leadership will benefit not just the iPhone, but will make all mobile browsers better," Gundotra said.
In the mean time, Google is turning its attention to building native programs for the iPhone with the software development kit announced by Apple in March. While not divulging the specifics of what Google is planning, Gundotra says the company is eager to take advantage of access to the native device. It also plans to continue offering Web-based apps, which offer the advantage of continuous updates and improvements.
"It's the best of both worlds," Gundotra said.