At a Glance
Expert's Rating
Our Verdict
Love or hate Microsoft Entourage 2008—and there are plenty of people in each camp—one of Entourage's popular new features is My Day, an add-on that lets you view and work with your Entourage calendar events and to-do items in a small, floating window, even if Entourage itself isn't running.
Many people have requested similar functionality for Apple's iCal. A while back, I covered Anxiety, a nifty and unobtrusive utility for viewing and managing your iCal to-do lists, but a program purposely designed to be limited in functionality. A closer approximation for My Day can be found in Second Gear's Today 1.1 ( ; $15). Today lets you view, in a compact window, all of the chosen date's calendar events, as well as all to-do items (tasks) due that day. (Today considers tasks without set due dates to be "perpetually due," so they appear in the list, as well.) A quick glance gives you an easy-to-read overview of what you've got planned for the day.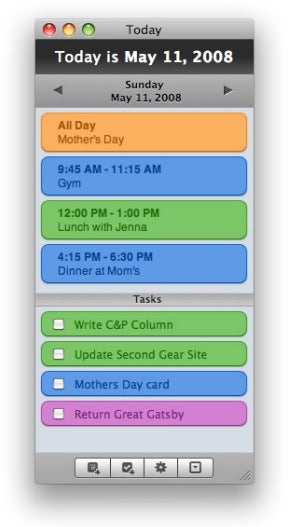 Because Today uses Leopard's calendering technology, any changes you make in iCal are reflected in Today, and vice versa. (If you use Mail for managing your to-do items, those tasks are actually part of an iCal calendar, so changes you make to tasks in Mail are also reflected in Today.) For example, if you make a change to an event in iCal, that change is immediately visible in Today; if you "check off" a task in Today, that task disappears from Today's display and is marked as complete in iCal and Mail.
By clicking the arrows on either side of the date display, you can view the events and tasks for a different day. (Unfortunately, there's no way I could find to switch directly to a particular date; for example, one three weeks in the future.) If you have multiple iCal calendars, you can—via the preferences button at the bottom of the window—choose which calendars' events and tasks to view in Today; each calendar's items are displayed in the color you've chosen for that calendar in iCal.
You can also choose whether Today floats above all other windows or acts as a standard program window, and whether Today should appear in the Dock or the menu bar. I prefer the menu-bar approach, as you can quickly show or hide the Today window by clicking on the menu-bar icon. (If you choose this option and later want to quit Today, note that the Quit command is confusingly hidden in the License screen of Today's preferences dialog.) Finally, you can assign a keyboard shortcut for showing and hiding the Today window, and a button at the bottom of the main Today window lets you hide the tasks pane so that only calendar events are visible.
On the Mac on which I use iCal, I find Today to be very useful for quickly viewing my commitments for the day. But just as useful is that Today lets you create new iCal events and tasks without having to open iCal or Mail. Click on the New Event button and you can enter the name, location, start and end times (or all day), and notes for your new event. The New Task button provides similar options: name, due date (or no date, if you prefer), and notes. For both events and tasks, you can choose the iCal calendar to which they should belong.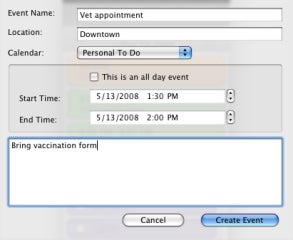 Since I don't like to keep iCal open when I'm not actively using it, I've long wished Apple would offer an easy way to create new events and tasks without having to open iCal each time. Similarly, I've been using Ben Kazez's iCal Events widget to quickly view upcoming events without having to launch iCal. Today provides both sets of features in a single, easy-to-use window.
What don't I like about Today? I already mentioned the inability to quickly switch to a particular date. I'd also like to be able to temporarily hide the events pane so that just to-do items are visible, and to disable the display of open-ended tasks so that only tasks actually due today are displayed. Finally, a quick-open drawer for enabling/disabling the display of particular calendars would be a nice addition; if, like me, you frequently change which calendars are displayed, it's a bit of a hassle to have to go to the preferences dialog to access this setting.
I also have a couple minor cosmetic criticisms: On smaller screens, Today takes up a good deal of real estate; although this makes the text easy to read, I wish Today offered a smaller-size option. And if you collapse the tasks pane, when you restore it, it doesn't open to its previous size; I often found myself having to resize the tasks pane to be able to see all my tasks.
Today 1.1 requires Mac OS X 10.5 or later.