Mariner Software on Tuesday announced the release of Montage 1.5, a significant update to their screenwriting software for Mac OS X. A free update for registered users, Montage 1.5 costs $139.95.
Montage enables you to create, edit and manage screenplays. It features Final Draft and text document import and export, the ability to use custom, pre-formatted templates for film, TV and theater, Smart Views and other features. Montage also helps you submit, track and send queries, a synopsis or script to hundreds if industry contacts.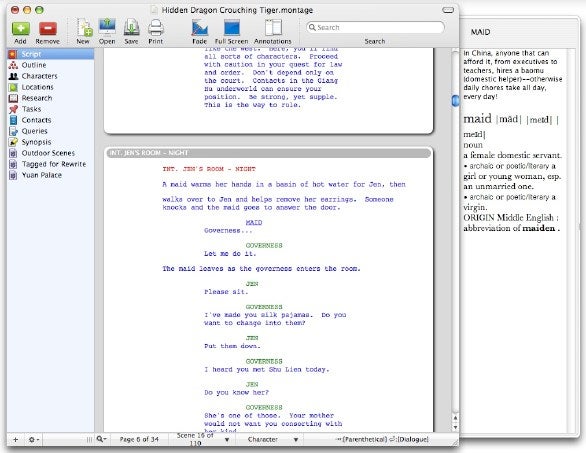 New to the 1.5 release is a rewritten styles system that Mariner claims providers users with more flexibility and control and easier text formatting. Also new is support for Comic Book format and color-coded Comic Book templates; scene navigation using arrows from Outline, Characters and Locations views to Scenes view; new contextual menus in Outline, Characters, Locations and most other views that let you assign keywords, status and other attributes; new Menu options and buttons; bug fixes involving hanging on print; and other fixes and enhancements.
Montage requires Mac OS X v10.4 or later.