At a Glance
Expert's Rating
Our Verdict
Upgrading your iPod's headphones is the easiest way to improve your on-the-go music listening. But when it comes to the iPhone, upgrading isn't as simple a task, because the iPhone's stock earbuds are more than just headphones. They include an inline microphone for talking on the phone, and an inline controller for taking and ending calls and for basic music-playback control. In addition, the iPhone's recessed headphone jack means that not all headphone plugs will fit. If you've already got a favorite set of headphones, we recently reviewed a number of headset adapters that add the microphone and controller button along with an iPhone-compatible plug. But if you're in the market for new headphones and want those features built-in, you need a true iPhone headset.
I tested a number of different iPhone headsets from Etymotic Research, Maximo, Skullcandy, Ultimate Ears, and V-Moda. Each is essentially one of the company's existing headphones reworked to provide the requisite iPhone-compatible plug, microphone, and control button. All offer improvements in audio quality over the iPhone's stock earbuds. I tested the audio quality, microphone performance, usability, and comfort of each model. One admitted shortcoming of my testing: I wasn't able to put the microphones on these headsets through a worst-case scenario; for example, on a loud plane or on a Midtown NYC street at the height of rush hour. However, I tested them in an office with a decent amount of machine and fan noise, and each did an admirable job in that environment.
Canal-what?
With one exception, all models forego a traditional earbud design in favor of an in-ear-canal ("canalphone") or canalbud approach. These designs actually fit in your ear canal to provide better noise isolation than earbuds; they often produce much better audio quality, as well. However, because they partially seal off your ear canal, like earplugs, a phenomenon called the occlusion effect can make your own voice sound odd—to yourself—when talking. This doesn't really affect audio quality for those on the other end of your calls, but it can be a bit disconcerting at first on your end. I bring this up here because these headsets are designed specifically for talking on the phone. Canalphones and canalbuds can also suffer from cable noise—bumps and scrapes to the cables can travel up the cables to your ears, where they can sound quite loud. But for many people, the improved sound quality and noise isolation more than offset these potential issues. (See our article on in-ear-canal headphones for more information on canalphones and canalbuds.)
Skullcandy iPhone FMJ [canalbud]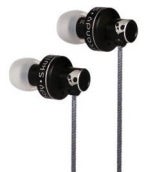 The iPhone FMJ ( ; $80) is the iPhone-headset version of Skullcandy's $60 Full Metal Jacket. Available in matte black, brushed chrome, and polished silver, the iPhone FMJ's aluminum earpieces use a unique design that's thin at each end but fairly wide in the middle. Some people may find that this wider section helps keep the earpiece in the ear; others may find it uncomfortable. (Tip: if you're not a fan of the FMJ's skull graphics, avoid the black model, on which they're the most noticeable.) The cables feature a clear-plastic covering over "aluminum foil" (Skullcandy's description) casing; cable noise is moderate. The easy-to-use microphone/controller pod is a 1.2-inch cylinder on the left-hand earpiece cable.
The iPhone FMJ includes one pair of silicone eartips as well as two pairs of the excellent Comply Foam Tips, which I find offer better comfort and a better seal than silicone tips. Unfortunately, the included Comply tips are the smallest size, and the silicone tips are small, as well; as a result, I found it difficult to get a good seal in either ear with the iPhone FMJ. Still, bass response was very good, which is surprising—with most canalbuds and canalphones, an incomplete seal results in poor bass. In fact, bass is the FMJ's strong point; treble and midrange sounds distant at times, resulting in audio that can seem a bit "muffled."
The FMJ's microphone was a couple steps up from the iPhone's stock headset in terms of clarity, although not quite as clear as those of the Etyomotic, Maximo, and Ultimate Ears models, below. The occlusion effect was only moderate.
Skullcandy includes with the iPhone FMJ a rigid, zippered storage case.
Ultimate Ears Super.fi 4vi [canalbud]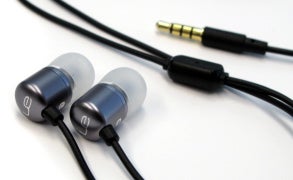 The Super.fi 4vi ( ; $150) is Ultimate Ears' iPhone-headset version of the $130 Super.fi 4. The attractive, gunmetal-gray aluminum earpieces are small and comfortable, and the thin, black cables produce only moderate cable noise. The 4vi's microphone and controller are split into two smaller pods, each just over just over half an inch long and a quarter-inch wide. The microphone pod is located on the right-hand earpiece cable where it hangs at mouth level. The controller pod is located below the Y intersection where the main cable splits into left and right earpiece cables, a convenient location that means you don't have to grasp blindly for a button dangling somewhere by your cheek. On the other hand, the controller button itself is recessed into the bud, making it difficult to press; I found using a thumbnail to be easier than trying to press the button with the pad of my thumb or finger.
Ultimate Ears includes five pairs of silicone eartips: four pairs of traditional canalbud tips in different sizes and one pair of dual-flange tips. I found the dual-flange tips to provide the best seal, which also meant the best noise isolation and bass response. The 4vi's sound quality is very good, including excellent detail and midrange. On the other hand, the 4vi's bass response is tight (non-boomy) but not very strong, even with a good seal; if you're a fan of prominent bass, or listen to a lot of bass-heavy music, the 4vi isn't for you.
The 4vi's microphone performance was among the best in the group, out-performed only by that of the Etymotic HF2, below. Audio was very clear and easy to understand. However, because of the tight seal offered by the dual-flange eartips, there's a considerable occlusion effect when talking on the phone using the 4vi; you sound fine to other people, but your voice sounds loud and muffled to your own ears. This effect is reduced if you use the standard canalbud tips, although, in my testing, that also reduced audio quality because of the poorer seal.
The 4vi includes several useful accessories: a tool for keeping the driver opening clear of earwax and other gunk, an attenuator cable for using the 4vi with those far-too-loud headphone jacks on airplanes, and a hard-plastic carrying case. Unfortunately, the cap on our review unit's case broke off within a few days of taking the 4vi out of the box.
Maximo iP-HS2 iMetal Isolation Headset for iPhone [canalbud]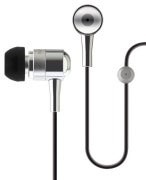 The iPhone version of Maximo's iM-490S, the iP-HS2 iMetal Isolation Headset for iPhone ( ; $70) is made of aluminum and uses a combination of polished and matte finishes. The small earpieces are light and comfortable, and the black-rubber cable is only moderately noisy. As with Ultimate Ears' Super.fi 4vi, the iP-HS2's microphone and controller pods are separated: the microphone is located in a tiny sphere on the left-earpiece cable; the controller is a large disk positioned at the Y intersection of the cables. The positioning of the controller is convenient, and the large button is the easiest to use of any iPhone headset I've tested. (Despite the large size, the button pod is lightweight.)
Maximo provides three sizes of canalbud-style silicone eartips. I generally find it difficult to get a good seal with this kind of tip, but the iP-HS2 Headset sounded surprisingly good without a perfect seal, an attribute it shares with V-Moda's Vibe Duo, below. You don't get the great treble and midrange detail provided by Ultimate Ears's 4vi, nor do you get as much bass impact as that of the Skullcandy FMJ, but the iP-HS2's overall sound quality is fairly balanced and doesn't offend in any way. Isolation is decent but not great, and the occlusion effect is moderate.
The iP-HS2's microphone was much better than that of Apple's stock headset, offering very clear sound, although just a dad bit worse than that of its sibling iP-HS1, below. Given that the iP-HS1 and iP-HS2 use what appear to be identical microphone components and cables, my theory is that there's a bit of "reverse" cable/occlusion noise going on here: because the iP-HS2's canalbud earpieces fit more-tightly in your ear canals than the iP-HS1's earbuds, vibrations from your voice travel down the iP-HS2's cable and into the microphone, interfering slightly with the audio quality compared to the iP-HS1.
Maximo includes with the iP-HS2 a vinyl-like carrying pouch and a two-foot extension cable (the stock cable is approximately 40 inches long).
Maximo iP-HS1 iMetal Stereo Headset for iPhone [earbud]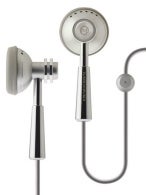 Maximo's iP-HS1 iMetal Stereo Headset for iPhone ( ; $70) is similar to the iP-HS2, above, but uses an earbud design. The brushed-aluminum earpiece bodies are attached to long, polished-aluminum stems; I found these stems to be a bit uncomfortable, as they sometimes pressed against the sides of my face, and the earpieces themselves are slightly larger than those on Apple's earbuds. The earpieces are surrounded by a hard-rubber ring to improve comfort, and Maximo also includes a pair of foam covers. Given that the iP-HS1's earpieces don't seal in your ears, you get no noise isolation, and the white-rubber cable exhibits no cable noise; there's also none of the occlusion effect you get with in-ear-canal variants. The iP-HS1 uses the same microphone/controller/cable design as the iP-HS2, and you get the same carrying pouch and extension cable.
Unfortunately, the iP-HS1 doesn't offer a noticeable upgrade in sound quality or comfort over the iPhone's stock earbuds, which are actually pretty good as earbuds go. You get slightly more bass and lower midrange with the iP-HS1 than with Apple's earbuds, but less treble detail.
On the other hand, given that the iP-HS1 is among the least-expensive iPhone headsets we've tested, I was pleasantly surprised by the quality of its microphone, which, along with that of the Ultimate Ears 4vi, was the second best of the group. It provided very clear audio and good volume; those on the other end of my conversations could hear me clearly and really liked the audio quality.
V-Moda Vibe Duo [canalbud]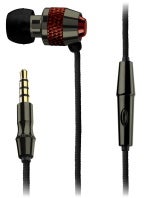 We reviewed the original Vibe Duo last year. One of the first headphones specifically designed to work with the iPhone, its plug fit the iPhone's recessed headphone jack and it included a microphone, but it was missing an inline controller button. V-Moda eventually added this feature, making the current Vibe Duo ( ; $101) a true iPhone headset.
The stylish Duo's tiny earpieces, lightweight and comfortable, are made of metal alloy and sport a smooth finish with a textured band of trim. The Chrome model's appearance is a chrome/chrome combination with a gray cable; Nero gives you black earpieces with silver trim and black cables; and Gunmetal Rouge (shown here) is gunmetal-gray with red trim and black cables. The cloth-covered cables not only look unique, but also produce minimal cable noise; a removable clip lets you attach the cable to your shirt to further reduce cable movement. The microphone/controller pod, located on the right-earpiece cable, is the largest of the bunch at almost 1.5 inches long and fairly thick; its button is easy to press but small compared to the size of the pod itself.
Like the Maximo iP-HS2, the Vibe Duo includes only canalbud-style silicone eartips (8 pairs in total—2 small, 2 medium, and 2 large clear pairs, and 2 small black pairs); because of this, it's similarly difficult to get a complete seal. Still, I'm a big fan of the Vibe Duo's sound quality. Although it can't compete with that of most true canalphones, its among the best for canalbuds, giving you surprisingly good bass to go with good midrange and treble response, resulting in a warm overall sound that still provides enough detail to be enjoyable.
On the other hand, the Vibe Duo's microphone performance was the worst of the bunch, providing, in the words of my testing partner, softer, fuzzier audio to those on the other end of my calls. Still, these comments are relative: the Duo's microphone still provided better audio than the iPhone's stock headset. And the Vibe Duo was the best of the headsets tested here in terms of the occlusion effect, which was virtually nonexistent.
Included with the Vibe Duo is a black, leather carrying pouch.
Etymotic Research HF2 Headset + Earphones [in-ear-canal]
Etymotic's $299 ER-4P has long been a favorite among headphone-loving audiophiles, and the company is a pioneer in the hearing-device microphone market. Etymotic combined these assets to create the HF2 Headset + Earphones ( ; $179), essentially a set of ER-4P in-ear-canal headphones with an iPhone plug, microphone, and controller. Using tiny, matte-black earpieces and black-rubber cables, the HF2's right-earpiece cable includes a relatively large (1.5-inch) microphone/controller pod with a button that's easy to locate and press. A removable clip lets you attach the cable to your shirt to reduce cable noise (which is fairly loud).
As true in-ear-canal headphones, it's vital to get a complete seal in the ear canals with the HF2. Etymotic includes three different kinds of earpieces to help achieve this goal: one pair of large, three-flange silicone tips; one pair of small, three-flange silicone tips; and one pair of foam tips. (I personally find it easier to get a good seal with foam tips, although the downside is that foam doesn't last as long as silicone, so you'll need to buy new tips—which are relatively inexpensive—periodically.) Once you get a good seal, the HF2's eartips block more external noise than any other iPhone headset we've tested, and provide sound quality that is head-and-shoulders better than the other headsets tested here. Treble and midrange clarity are superb, allowing you to hear things that are simply inaudible with the other models. And although, like most in-ear-canal headphones, bass isn't prominent, it's all there—tighter and more accurate than you'd think something this tiny could produce.
As with audio-listening performance, the HF2's microphone was the class of the group, providing the clearest, loudest audio. The only drawback here is that because of the tight seal between the HF2's earpieces and your ear canals, the occlusion effect can be quite severe; when no audio is playing through the headphones, you can even hear your own breathing. As noted above, this doesn't affect the sound of your voice to those on the other end of your calls; however, it's something you'll need to get used to on your end.
The HF2 includes a filter tool for keeping the driver opening clear of debris and for replacing filters; you also get a set of replacement filters and a padded, zippered carrying pouch.
(If you're wondering why the ER-4P's list price is $299 and the HF2, which uses similar components while adding a microphone and control button, is only $179, the answer relates to outsourcing. ER-4P headphones are put together by Etymotic Research in the company's U.S. facilities. In addition, each earpiece driver is individually tested, and the two earpieces are carefully matched to each other. Etymotic also records the serial number and frequency response of each driver; if you ever need to replace a driver, the company can use these records to carefully match the replacement driver. The HF2, on the other hand, is put together overseas and without the same stringent testing and matching. The result is a product that sounds just as good to the vast majority of listeners but is much less expensive.)
Macworld's buying advice
Each of the products tested here offers some degree of improvement over the iPhone's stock headset. For fans of basic earbuds, the Maximo iP-HS1 is a solid product, but at $70, it's tough to recommend as an elective upgrade given that it's not dramatically better than Apple's included headset. It's a better bet for earbud fans who've lost or damaged their original earbuds and are looking for better microphone performance or prefer the iP-HS1's metal appearance.
If you're looking for something comfortable with good sound quality and a bit of noise isolation, canalbuds are the way to go. V-Moda's $101 Vibe Duo and Ultimate Ears' $150 4vi lead this category. The former is perfect for bass lovers, is very comfortable, and looks great. The latter excels when it comes to musical detail and offers one of the best microphones we've tested; however, note that its price isn't much less than that of the superior Etymotic HF2. For those on a budget, Maximo's $70 iP-HS2 doesn't excel in any particular area, but is a solid overall value.
Finally, if you're looking for audiophile-level sound quality and significant noise isolation, Etymotics' $179 HF2 in-ear-canal headset is in a class of its own, offering the best audio quality for both listening and talking, as well as the ability to seal out the world. And its price is a relative bargain compared to its microphone- and controller-less ER-4P inspiration. Just keep in mind that it may take a while to get used to the sound of your own voice with the HF2.