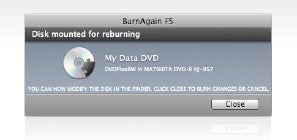 Freeridecoding on Wednesday announced the release of BurnAgain FS 1.0 for Mac OS X. BurnAgain FS is a new CD and DVD burning utility, and it costs [euro]15 (US$23).
What makes BurnAgain FS different is that it enables you to burn multiple sessions to CD or DVD using the Finder. You can remount the disc like a hard drive volume and add or remove files. You can also change the name of the disc. It works with CD-R, CD-RW, DVD-RW and DVD+RW media.
Discs created with BurnAgain FS are readable on all platforms, and the software automatically preserves special Mac file attributes, or resource forks.
BurnAgain FS requires Mac OS X v10.5 or later, 2.2MB hard disk drive space and an Apple-supported CD or DVD burner. A demo is available for download, as well.