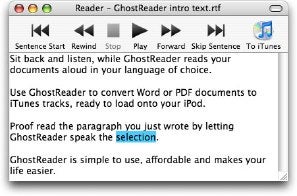 ConvenienceWare/AssistiveWare on Wednesday announced the release of GhostReader 1.5, a significant update to their text-to-speech software for Mac OS X. It costs US$39.95, and the update is free for registered users.
GhostReader converts text to speech and works in PDF, Word and other documents, and can speak any selected text in any application. It works in multiple languages and works with high-quality voices not included in the operating system.
The new 1.5 release adds new natural-sounding voices in Czech, Polish, Swedish and Finish. Existing voices have also been enhanced. A pronunciation editor can now modify the way a word is pronounced (new abbreviations can be added too). You can now directly export documents to iTunes and select different iTunes encoding exports.
GhostReader now works with DOCX and ODT documents, and the export to iTunes feature now runs in the background. Responsiveness has been improved when speaking selected text, or text below the cursor. Speaking selected text also works in floating windows. Other enhancements and fixes have been made as well.
GhostReader requires Mac OS X v10.4 or later.