Apple has big plans for its latest retail store and its first in downtown Boston—literally. The new brick-and-mortar outlet, opening Thursday on Boston's tony Boylston Street, will be the largest Apple Store in the United States with three floors of retail space.
"Apple has exploded in growth," said Apple senior vice president of retail Ron Johnson during a Wednesday preview of the Boylston Street store. "Boston is also redeveloping…there's so much growth in Boston, combined with growth for Apple, that it's time to build another large store."
While the Metro Boston area already features eight stores, the Boylston Street store is the first in the city itself. Johnson noted Wednesday that Apple has had its eye on the site for eight years—before the company even opened the first of its retail outlets. And its plans for the Boylston Street outlet have expanded over time.
"If we had opened this store in 2001, it would have been one level," Johnson said. "If we had opened it in 2005, it would have been a two level store. But in 2008, it's the largest store in the U.S."
Apple's retail efforts have grown considerably since Apple first eyed downtown Boston as a potential site for one of its stores. The company now has 210 stores around the world—183 in the U.S., with 15 in the U.K., seven in Japan, four in Canada, and one in Italy. The retail stores brought in $1.45 billion in second-quarter revenue, Apple reported last month. The Boston store is one of 45 that Apple plans to open during its 2008 fiscal year; the company also plans brick-and-mortar efforts in Australia, China, and Switzerland.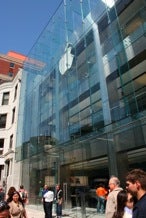 Apple executives see the retail stores as a way to get more out of the company's Mac business. According to Johnson, Apple hopes to attract five different types of customers to its stores—people who live in the area, people who go to school in the area, people who work there, people who play or shop nearby, and tourists who visit.
With a location in the heart of the Back Bay neighborhood of Boston featuring upscale shops, plenty of office buildings, one of the city's primary convention centers, and proximity to several area universities, the Boylston Street store's location is "perfect" for drawing all five kinds of customers, Johnson said.
"That's why it's so big," he added.
In the course of planning the store, Apple worked closely with the city of Boston and the Boston Redevelopment Authority to make the store fit into the neighborhood. "It's a beautiful building," Boston Mayor Thomas M. Menino said at Wednesday's media briefing, "much better than what was here before," referring to the building's former occupant, a copy shop.
Menino also lauded Apple for bringing over 165 new jobs to the area—all of the store's employees are drawn from the surrounding area, many of them from local universities.
Apple also made an effort to keep the building environmentally friendly as well. For example, the company planted natural grass on the building's roof in an effort to provide some greenery in the urban environment. "You'd kind of want to hang out there, if you could, bring out your lawn chair," Johnson said.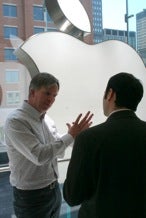 In addition, the store is set up to collect and filter rainwater in order to help rebuild the Back Bay's water table, an issue that both Johnson and Menino said was important for the city. And while the large amounts of glass and metal in the store's construction might present an air-conditioning challenge, Johnson also said that Apple worked hard to utilize natural light where possible to reduce heating costs in the winter. "We're highly confident that we've built a store here that is going to have a great environmental impact."
Apple Stores are designed by a team that is personally overseen by CEO Steve Jobs, so it's little surprise that the Boston store is constructed largely from the same materials used in Apple's other retail outlets. Like most Apple stores, the Boylston Street location features copious amounts of glass and stainless steel, though Johnson also pointed out that the stone that makes up the floor is the same used in sidewalks in Florence, Italy. "It's a common palette of materials," he said, "both old and new."
While the materials might be similar, the store's layout differs from many of Apple's other locations. Three floors, connected by a central glass and steel spiral staircase, are each targeted at specific products and tasks. The first floor, for example, is all about the Mac, which Johnson called the foundation of the company. There are more than a hundred Macs on display, each with full Internet access and the complete suite of programs customers might want to try out. The second floor, meanwhile, features iPods, iPhones, and third-party products.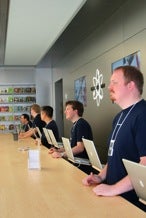 But Johnson described the third floor as something that really set the store apart. Not only does it boast the Genius Bar, which can serve up to 1,000 people a day, but the third floor also has what Apple has dubbed a "studio" section for hosting One to One personal training sessions, including Pro Labs—month long sessions comprised of four two-hour sessions on music, moviemaking, and more. Johnson said that Apple already has 15,000 One to One members in the greater Boston area. The store will also feature training for younger Apple users, with summer camp programs and school nights where kids can come with their classes.
The store's layout and size aren't the only things that distinguish the Boylston Street location from most of its counterparts. For several weeks before the store's opening, Apple made a rare break from its uniform marketing message and tipped its baseball cap to the Boston Red Sox, veiling the building in a wooden facade painted to resemble the Green Monster of nearby Fenway Park. "We just thought it was fun," Johnson said. "We thought putting something out that people really cared about was a way to put a smile on someone's face and say 'we're here for you Boston.'"