When simple measures—such as restarting—fail to patch up your Mac, it may be time to call on Disk Utility's First Aid tools. (Not sure what those basic measures are? See our Leopard Troubleshooting Guide..)
To Launch Apple's Disk Utility, go to /Applications/Utilities, click on the First Aid tab, and select the name of the volume you want to fix from the list on the left side of the window.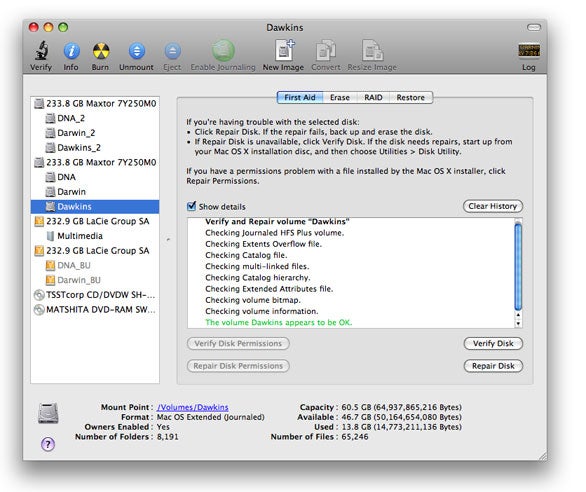 What to Fix? Decide if you need to Repair Disk Permissions or Repair Disk. They're quite different and you may want to run both. Repair Disk Permissions fixes faulty permissions settings for all files installed as part of a Mac OS X installation. OS X uses Unix permissions settings to determine your read and write access to files. If Mac OS X programs won't open or are acting oddly, a permissions problem can be the culprit. You can only repair disk permissions on a disk with OS X installed.
On the other hand, you can run Repair Disk on any volume, even one without Mac OS X installed. This tool attempts to repair problems in a disk's directory, which keeps track of where everything on your disk is physically stored. This kind of repair can potentially fix almost any ailment, from an inability to open a document to a complete failure to start up.
If you selected Repair Disk, and the Disk Utility claims to have found errors but fixed them, select Repair Disk again, just to make sure. If Disk Utility finds errors it is unable to fix, you'll need a more powerful repair utility, such as Alsoft's $80 DiskWarrior or Micromat's $98 TechTool Pro. Make sure you have the latest Leopard-compatible version.
Verify or Repair? Disk Utility gives you a choice of Verify Disk or Repair Disk. When you verify, the utility checks for problems but doesn't make any repairs, even if problems are found. This is useful if you don't want to risk modifying your disk yet (perhaps because you want to back up first).
Repair Disk Button Dimmed? When you try to choose the current startup volume, the Repair Disk button is dimmed. The most common way to fix this problem is to restart from the Leopard Install DVD (or the Install DVD that came with your Mac). Insert the DVD and then hold down the C key at startup. This will make your Mac boot from the system software on the DVD instead of the software on your hard drive. Select Disk Utility from the Utilities menu, choose your regular startup volume, and click on Repair Disk. Verify Disk, on the other hand, can be selected, even for the current startup volume. If a verify gives your startup volume a clean bill of health, you've avoided the hassle of restarting and booting from a DVD just to run Repair Disk.
Enable Journaling Verifying the current startup volume, or live verification, will only work for volumes with journaling enabled. Check the Disk Utility toolbar to make sure journaling is enabled for your disk volumes. If the Enable Journaling button in the Disk Utility toolbar is dimmed, the feature is already turned on. If it's not, click on the button.
Unfortunately, live verification, which first appeared in Tiger, still has bugs in Leopard. For example, false error messages occasionally appear. Ignore any error that says "Incorrect size for file temp."
[Senior Contributor Ted Landau is the founder of MacFixIt and the author of Take Control of Troubleshooting Your iPhone ( TidBits Publishing, 2007).]