At a Glance
Expert's Rating
Our Verdict
Apple's Address Book utility is a handy place to store information for your contacts, especially since it integrates so well with other Mac OS X programs. However, for many people, relatively few Address-Book interactions involve editing contact data. You're usually just trying to view or copy someone's information; for example, an address or phone number. In these cases, launching Address Book is overkill.
In the past, I've recommended BuddyPop, a €10 utility that acts much like Spotlight or LaunchBar for accessing Address Book contacts. (And LaunchBar itself offers such functionality.) But for those on a tighter budget, consider Yellow Mug Software's TapDex 3.3.2 ( ; basic version, free; Pro version, $5).
As with BuddyPop, whenever you want to quickly grab some contact information, you just press a keyboard shortcut (that you define in TapDex's preferences) and then type a few letters of the person or business's name. As you're typing, TapDex displays the number of contacts that match what you've typed; the more specific you are, the fewer matches appear.
Improvements TapDex provides over BuddyPop are that you don't have to type names in order, and you can mix individual and company names. For example, if "Smith" gives you too many results, typing a space and then "Jo" will result in only those contacts with both Smith and Jo anywhere in their names (as illustrated in the screenshot below). Similarly, typing "Apple Jim" will result in anyone named Jim who works at Apple (or anyone named Apple who works at Jim's Autobody, or anyone named Jimmy Appleseed, or any company called Jiminy Applesauce…you get the picture).

If you've typed enough information to match only a single contact, TapDex displays that contact's information in its window. If you've instead typed just enough to narrow down the results to a manageable number, press return; TapDex's window will include a list of matching contacts. You can then use the Up and Down arrow keys, or the mouse, to select the desired contact.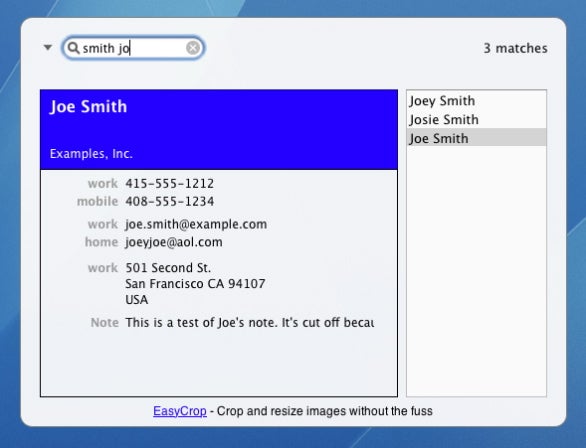 Any information you've entered in Address Book for the chosen contact appears here. One limitation is that the Notes field displays only the first line of the note; to view the entire note, you'll have to open the actual contact in Address Book, which you can do by clicking on the contact name at the top of the TapDex window.)
But chances are, you don't want to just look at a contact's information; you want to do something with it. Although it isn't obvious, TapDex does give you this ability—using an interface similar to Address Book's. For example, if you click on an email address in the TapDex window, your default email client will open and a new message, addressed to that email address, will be created. Alternatively, click on the email label to the left of an email address; a pop-up menu will appear with options to Send Email or Copy, the latter allowing you to copy the email address to the Clipboard.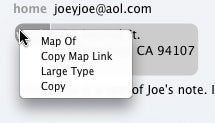 Similarly, by clicking on the labels next to other types of information—phone numbers, addresses, notes—you can copy that particular info to the Clipboard. (Unfortunately, there's no Copy All command to copy all the information for a contact.) In addition, the menu for an address lets you view the address on Google Maps or copy the Google Maps URL for the address. And the menu for a phone number lets you view the phone number in large type on your screen for easier dialing, or, if you have Vonage software installed and purchase the Pro version of TapDex (see below), dial the number automatically with Vonage. (Address Book gives you a similar option for Skype dialing.)
If you think the interface for accessing these useful options—clicking the label next to each item—is too subtle, you're not alone. Yellow Mug told me the company is going to add, in an upcoming version, the capability to Control-click on any bit of information to access its pop-up menu of options.
TapDex's preferences, accessible via a new TapDex pane in System Preferences, include options for your preferred keyboard shortcut and for changing the colors of a few TapDex window elements. (I wish you could choose colors for all window elements.)
The basic version of TapDex is free, but includes advertising for the developer's other products. I found this advertising—a single line of text at the bottom of the TapDex results window; you can see it in the second screenshot above—to be tasteful and unobtrusive. However, if it really bothers you, you can pay $5 for the Pro version of TapDex, which lets you disable this advertising line; the Pro version also enables Vonage dialing.
One area in which TapDex lacks is keyboard control; once you've pressed your TapDex shortcut and typed in your search term, all other actions have to be performed using the mouse cursor. With BuddyPop, for example, once you've found the desired contact, you can tab to a particular field and then press return to view the information in large type (or, in the case of an email address, create a new email message), or press Command+C to copy the field.
For its higher price, BuddyPop also provides the capability to search all contact fields, as well as more-advanced features for dialing; for example, from within a BuddyPop results window, you can dial a contact using a modem, a paired Bluetooth phone, or one of a number of Internet-calling services (Vonage, Skype, X-Lite, eyeBeam, or a generic profile you can edit for use with other services). BuddyPop also offers more customization options, such as the ability to choose the size and position of BuddyPop's window on the screen; the display font; which fields appear in the results window; and which fields are searched.
Still, for a free utility, TapDex impresses. It's a simple and easy-to-use way to access your contact data without having to open Address Book.
TapDex 3.3.2 requires Mac OS X 10.3.9 or later.