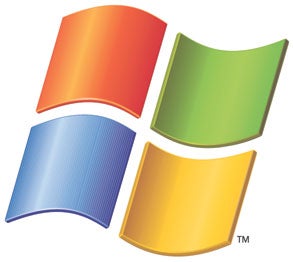 By now, you sure know that—thanks to Intel chips in Macs and software such as Parallels Desktop ( ) and VMware Fusion ( ), you can run Windows software on your Mac.
But you may not know the answers to a bunch of other related questions: Why would you want to put Windows on your Mac in the first place? Which Windows programs are compelling and unique enough to justify the hassle of putting Windows on your Mac? Can you really incorporate those programs smoothly into your Mac workflow, or will they always feel clunky? In other words, while putting Windows on your Mac might sound great in theory, how does it all work out in reality?
For some answers to those questions, we offer this series. We've got advice on how to prepare your Mac for Windows, how to set up Windows itself, and how to efficiently run Windows applications side-by-side with your Mac-native software. We've also got recommendations on great Windows applications that don't really have good Mac alternatives. Maybe you know some of this already. We bet you don't know it all.
Configuring your hardware
Obviously, only Intel-powered Macs can run VMware Fusion or Parallels Desktop. Both will run just fine on anything from the first Core Solo–powered mini to the newest eight-core Mac Pros.
Neither program specifies a minimum clock speed, but—no surprise—the faster your Mac, the better your Windows experience will be. That said, even my original 1.66GHz Core Duo Mac mini does fine running basic applications (such as Microsoft Office), in both Parallels and Fusion.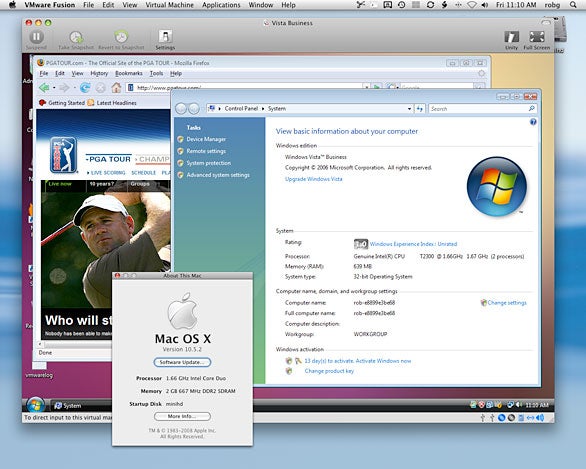 While each application will run with as little as 512MB of RAM, each prefers 1GB, and if you want the best Windows XP experience possible, you'll need 2GB; if you're running Windows Vista, 3GB is preferable.
As for disk space, you'll need to set aside at least 2GB on your hard drive for Windows XP, but that's just for the operating system itself. You'll also need to make room for any Windows applications you install and any data files they generate. Vista requires, at a minimum, 15GB of disk space, but its documentation recommends 40GB.
Picking the right Windows
Vista is the official current version of Windows. But you can still find Windows XP for sale out there; until very recently, XP Pro was what I always installed on my Macs.
If you want to stick with the official current version of Windows, you can get Vista in Basic, Home Premium, Business, and Ultimate editions. Microsoft provides a comparison table that makes it easy to choose the right version.
Basic is too bare-bones to consider. for a home user, Home Premium is an affordable yet reasonably powerful option. For office users, Business is the logical choice. If you're the type who simply must have the best of everything, go for Ultimate. For my needs, Business—with its comparatively full feature set and affordable upgrade cost—works just fine.
No matter which version of Vista you choose, you'll probably run into some of its well-publicized annoyances. Our sister publication, PC World, did a good job of summarizing them and providing some workarounds—including one for the annoyingly persistent User Access Control dialog boxes. Neither Fusion nor Parallels currently supports Vista's resource-intensive Aero visual effects. This is actually a good thing, because it reduces the load on your system.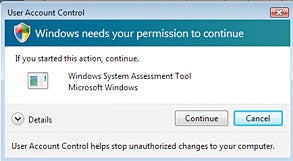 Installing Windows
Installing Fusion or Parallels is easy. If you're installing Windows on your Mac for the first time, that's also relatively simple: Parallels and Fusion both include installation wizards that automate the process for you. Just make sure you allocate enough drive space for applications and data, as well as for the operating system itself, when you create the virtual machine. If you do, the process should be fairly painless.
If, on the other hand, you've used Fusion or Parallels before to run earlier versions of Windows, upgrading to Vista can hurt a bit. The degree of pain will depend on the version of Windows you're upgrading from and the version of Vista you're upgrading to. Certain combinations require a clean upgrade, meaning that you'll have to wipe out all your old data. Others allow an in-place upgrade, leaving your data intact. (Unlike OS X, Vista doesn't offer a clean install that keeps users and settings.) The Upgrade Paths page at Microsoft explains the permutations of the problem.
For me, the biggest problem was expanding the size of my existing virtual machines (meaning the space on my hard drives devoted to Windows and its applications). I've always kept those relatively small—under 10GB—because I use only a couple of Windows applications and I don't create massive data files. But, as noted, Vista wants a lot more than that.
Tweaking settings
Out of the box, both Fusion and Parallels do a good job of creating virtual machines with usable default settings. But that doesn't mean you can't improve on them. Here are a few tweaks I recommend for most users.
To change settings in your Fusion virtual machine, first shut it down and then click on Settings in the toolbar. If you have an Intel Core Duo Mac, Fusion can take advantage of the dual CPUs to get better performance in processor-intensive programs. To enable dual-CPU support, go to the Processors section and click on 2 Virtual Processors. Fusion also supports accelerated 3-D graphics; enable it on the Displays tab. (Note that, for most Windows games, you're really better off using Boot Camp.) Finally, if you'd like Fusion to allocate more processing power to your Mac or to your virtual machine, you can adjust that setting in the Performance section of Fusion's Preferences.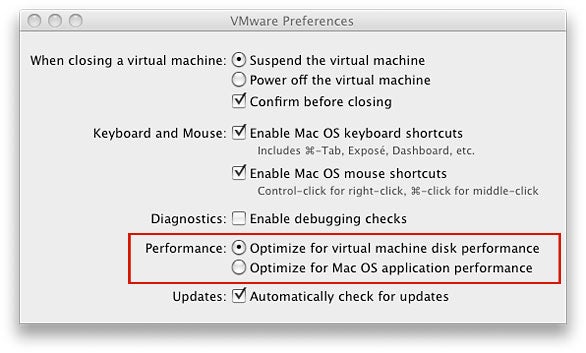 In Parallels, with your virtual machine shut down (not just suspended), select Edit: Virtual Machine to open the Configuration Editor. To give your Mac applications more power when your virtual machine is running, select the Options resource, click on the Advanced tab, click on the Mac OS X Applications button in the Optimize section, and then click on OK. If you'd rather reserve the best performance for your Windows programs, leave this option alone.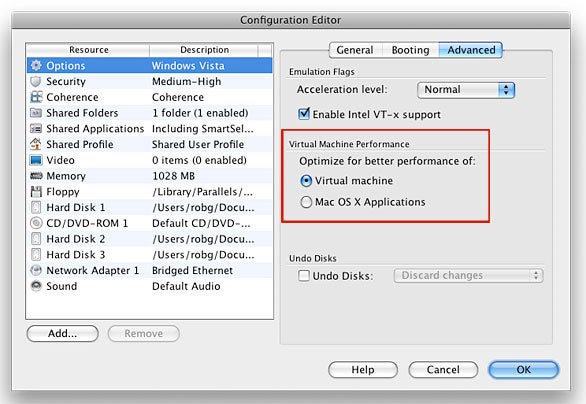 Here's another good tweak: in the Video resource, click on the Enable DirectX Shaders button to turn on experimental accelerated graphics support. Once you've enabled this, you can run certain 3-D games and Windows applications within the virtual machine. (But again, for serious gaming, use Boot Camp.) For more help on these and other Parallels options, click on Help in the Configuration Editor window.
In Vista itself, switching to the Windows XP theme can improve performance (or at least make the OS less annoying). To do so, open the Control Panel, click on Appearance And Personalization, and then click on Change The Theme in the Personalization section. Select Windows Classic (or Windows Standard) from the pop-up menu, and then click on Apply. finally, back in the Control Panel, click on Use Classic Windows folders in the folder Options section of the Appearance And Personalization page.
Sharing data
Once you've tweaked the performance settings, you need to figure out where you want your Windows applications to put the files you create. You have three basic choices: you can store these files within the virtual machine itself, in a folder on your Mac that Windows can access as it would a network volume, or in a folder that your Mac and the virtual machine share.
The default is to keep the files within your virtual machine: if you do nothing, files saved from a Windows program's Save menu will end up in your user folder on the virtual C: drive.
I prefer the third option—storing data from Windows programs in a shared folder that both operating systems can "see"—for two reasons. First, space on your virtual hard drive is probably more limited than space on your Mac's hard drive. Second, if you save files to a folder outside the virtual machine, you can open them in your Mac applications. That means you could create documents in Office for Windows and then open them in Office for the Mac.
Setting up shared folders isn't hard in either Parallels or Fusion. In Parallels, choose Devices: Shared folders: Add from within your virtual machine. A new window will appear where you can enter the name (as seen by Windows), the path, and a description. Fill in the information, click on OK, and, after a short delay, your shared folder will show up in the Network Drives section of Windows' My Computer, with a mapped drive letter.
But don't stop there. With your Parallels virtual machine shut down, open the Configuration Editor (Edit: Virtual Machine). Here you'll see options for Shared folders, Shared Applications, and Shared Profile. Shared folders we've discussed. Shared Applications lets Windows programs appear in OS X's Open With contextual menu; your Mac programs can also appear within Windows. Shared Profile lets Windows use your Mac's Desktop, Documents, and Pictures folders.
To set up shared folders in Fusion, click on the Settings button in the Toolbar, click on the plus-sign (+) button at the bottom of the window, and select Add Shared folder from the pop-up menu. In the new window that appears next, select Enabled and give the folder a name that will appear in Windows. Then click on the Path pop-up menu, select Choose, and locate the folder that you'd like to share in the Mac OS. Once you've found the folder, click on Open to dismiss the dialog box and then click on OK to add the folder.
To see your shared folders, click on the Network icon on the desktop and then navigate into the shared folder. If you'd like to make access even easier, map the network drive. If you're running XP, you'll find that option in Tools: Map Network Drive; in Vista, Map Network Drive is on the toolbar. Whichever one you use, click on the Browse button in the new window that appears and then drill down into the Network folder, and you'll see the shared folder you just created. Click on it once, and then click on OK and then on finish. The shared folder should appear alongside your other folders when you browse your files.
There's one big caveat to all of this: given the number of viruses and malware programs that exist for Windows, carefully consider how much of your Mac's file structure you want to expose to Windows. I've chosen to leave most of Parallels' sharing features disabled; I share only a couple of folders (one for data files, one for images) through the Shared folders feature. If you're going to be running Windows regularly and surfing the Web, you should certainly enable Windows' built-in malware-detection tool, and consider investing in antivirus software.
There's actually a fourth way to share data between Windows and Mac OS, but it's strictly for ad-hoc file sharing: simply drag the file or folder you would like to copy to the other operating system's window. This leaves the source object in place. If you're dragging to Mac OS, make sure that you drag it to your desktop or another finder window, rather than to an application window.
Unfortunately, you can't drag and drop text to or from your virtual Windows session in Fusion or Parallels. You can, however, copy and paste text (though not other kinds of data) in both directions.
Working together
If you find it jarring to move from OS X to a separate window containing your Windows world, both Parallels and Fusion provide alternatives.
First, to better differentiate between the two operating systems, you can use the full-screen mode available in both Fusion and Parallels to obscure all visible evidence that you're even using a Mac—anyone walking past your cubicle will see only your Windows session on the screen. In OS X 10.5, I like to assign Fusion or Parallels to its own space in the Spaces preference pane. I can then move between the Mac and Windows operating systems by pressing control and one of the arrow keys.
If you're looking to integrate the two operating systems visually, you can have that, too. Fusion and Parallels each offer a mode that lets Windows' programs and windows blend in with the rest of your OS X windows. (Parallels calls it Coherence mode; Fusion calls it Unity.) Whatever you call it, in this integrated mode the Windows desktop vanishes, and your open Windows programs appear alongside OS X applications on the desktop and in the Dock.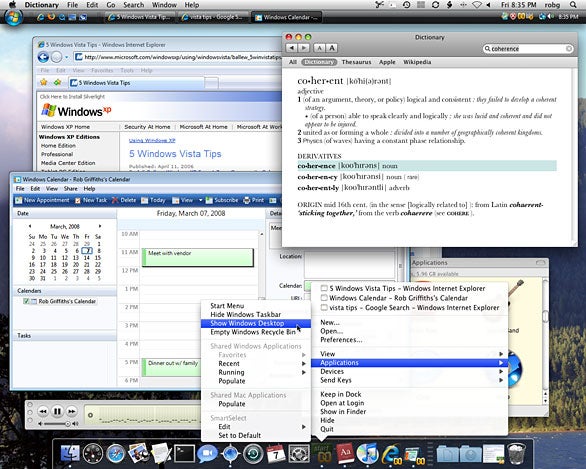 Printing from Windows
If you have a networked printer, printing to it from Windows in Parallels or Fusion should just work. You should be able to set up the networked printer from your virtual machine just as you would on a stand-alone Windows machine.
Printing to a USB printer connected directly to your Mac is somewhat more complicated. Fusion and Parallels both include solutions for "capturing" your Mac's USB printer for use within Windows. Unfortunately, you won't be able to print from Mac OS at the same time, so this method is not my preferred solution.
Here's how I like to do it: in your Windows virtual machine, download and install Apple's Bonjour for Windows. As part of the installation, a Bonjour Printer Wizard icon will appear on your Windows desktop. Launch it after the installation finishes, then click on Next to get to the Shared Printers screen.
What happens next depends on your printer. If it's a newer model and Bonjour is enabled, you'll see it listed in the Shared Printers screen. Select it, click on Next, and then fol- low the instructions to install its drivers. When this process is done, you'll have a fully supported printer installed in Windows.
If you have an older printer, you won't see it listed. Switch back to your Mac and use the Sharing preference pane to enable Printer Sharing. Switch back to Windows, and the printer should now show up in the Shared Printers list. Select it, click on Next, and leave the driver settings at the default (Generic/PostScript or Generic/PCL).
The final word
That's certainly not all you need to know about running Windows programs on your Mac—not by a long shot. But many of the adjustments you make will depend on your particular system and the particular Windows software you want to run. What I've outlined here should be enough to get you started in the world of dual—not dueling—operating systems.
[Rob Griffiths is a senior editor at Macworld.]