While Office 2007 is probably the top Windows app for Mac users, it's not the only one you may want or need. Here are seven other reasons to install Windows on a Mac.
Internet Explorer 7
Some poorly designed sites still demand Internet Explorer, and the five-year-old Mac version isn't up to the job. IE 7 can give you access to those sites. And if you're a Web site creator, you can run Windows IE in a virtual machine so see what your site will look like to the majority of the world.
Windows Media Player 11
Macs can play back Windows Media files through QuickTime, thanks to free downloadable codecs. But Microsoft's native Windows player adds additional features that media-savvy Mac users might like. Microsoft's DRM works through Windows Media Player (WMP) and allows you to download music from some subscription services, including Rhapsody and Napster. And Amazon, Movielink, and others offer a range of movie downloads that you can't get on Tunes and that you can play in WMP.
Visio 2007
Although a few diagramming tools are available for OS X, including Omni Group's $150 OmniGraffle ( ), Visio Standard is a must-have in any Windows-centric office. It has most of the same flowcharts, network diagrams, and other graphics as OmniGraffle. But its PC-only features make Visio especially useful for a team, and it also integrates well with Microsoft Office.
Netflix
The Netflix online interface works fine in a Mac browser for managing your queue of DVDs. But the Watch Instantly movie-streaming service doesn't. At press time, PC users had access to a library of more than 7,000 streaming titles. Subscribers who pay $9 or more per month for their accounts get unlimited viewing; those who pay less can watch online for two hours each month. Netflix has announced plans to offer this streaming service to Mac users, but so far hasn't provided a specific timetable. For now, a Windows virtual machine is your only alternative.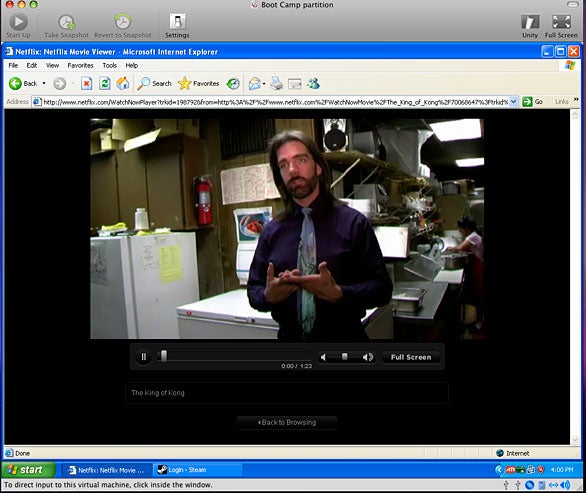 Quicken Home and Business
The current Mac release, Quicken 2007, handles basic home finances, but misses some advanced options offered in the Windows edition. The PC version of Quicken— Quicken Home and Business—offers better options for tracking investments, invoices, and receivables, and has better cross-platform file compatibility and online banking support.
Earthmate GPS LT-40 with Street Atlas USA 2008 Plus
GPS hardware and software vendors have largely ignored the Mac. A few Mac-only applications—including James Associates' $50 MacGPS Pro and Karen Nakamura's $60 GPSy—offer good waypoint and positional tracking. But if you want an all-in-one hardware-software bundle or preloaded maps, something like DeLorme's Windows-only, $100 Earthmate GPS LT-40 with Street Atlas USA 2008 Plus is a better bet. With voice-recognition input and spoken directions, it's like having your own personal navigator.
Electric Quilt 6
PC users have their choice of software for planning dressmaking, knitting, needlepoint, and other textile projects. Electric Quilt is just one example of the genre. It helps you design quilts by arranging fabric samples or scanned swatches. Quilters can quickly modify the pattern and layout before choosing the final design. Printed templates make the actual cutting and sewing far easier.
[Zack Stern is a freelance writer living in San Francisco.]