Some computer games never appear on the Mac. Sometimes the game makers don't think the limited Mac market is worth it. Other games depend so much on Windows-specific technologies that it's not feasible to port them without major reengineering. Whatever the reason, here are my ten top reasons you might want to install Windows on your Mac.
Note: For running games, Boot Camp is a much better bet than Parallels or Fusion. Some of these games won't run at all in the latter two.
Company of Heroes
It's not particularly cutting-edge, and it's been out for a while on the PC. Why a Mac game company hasn't yet published a Mac version is beyond my ken. But Company of Heroes ranks as one of the best real-time strategy (RTS) games out there. Set during World War II, it puts you in control of Allied military units, starting out with charging Omaha Beach during D-Day and continuing with the destruction of Nazi forces in France. The game scales marvelously on faster hardware but still looks good on slow machines; the audio is realistic and the soundtrack is good—it's just an almost perfectly executed RTS from start to finish.
Crysis
You're Nomad, a superpowerful soldier whose Nano Muscle Suit is all that stands between you and the forces of North Korea and, oddly, extraterrestrial enemies. Far Cry makers Crytek developed this first-person shooter game, and it has set the newest standards in realistic game play and special effects. It features hyperrealistic physics and spectacular graphics (the latter thanks to Windows DirectX 10). Unfortunately, neither Parallels nor Fusion currently supports DirectX 10; but given the features race between the two, I'd bet one or the other will have it eventually.
The Elder Scrolls IV: Oblivion
Widely regarded as one of the best role-playing games (RPGs) ever released for a computer, The Elder Scrolls IV is a fantasy-based RPG that features a huge, open-ended world to explore. You begin the game in a filthy dungeon, but you're soon swept up in events as the emperor picks you as a champion to rescue his illegitimate heir. The game leaves the where and how of fulfilling that mission entirely up to you; you can use weapons, you can use magic, or you can use stealth as you make your way through a stunningly massive world.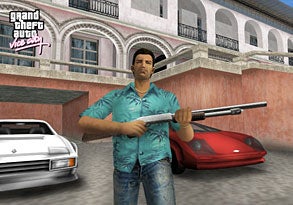 Grand Theft Auto: Vice City
Maybe the idea of this controversial game series hitting the Mac leaves you a bit cold; it's been the pariah of many antigaming activists and legislators for its glorification of street violence and thuggery. While some of that criticism is deserved, Grand Theft Auto is also a fantastically well-crafted game. Your job is to become a top criminal boss, but you don't have to follow any specific path to get there. The game is open-ended, providing you with an entire city to explore and letting you find your own way to the top. The '80s theme doesn't hurt, either: it's like playing a sprawling episode of Miami Vice.
Guild Wars
This online RPG at first seems like it's cut from all-too-familiar cloth (a fantasy realm filled with muscular men, scantily clad women, and fearsome beasties). But Guild Wars really sets itself apart from the competition. The game features fast, action-RPG style game play (think Diablo as a massively multiplayer game) and a character-building system that lets you either create a role-playing character or jump into player-versus-player combat. Guild Wars has also won high praise from gamers for being rock solid, fast loading and frequently updated.
The Orange Box
The company that produced The Orange Box, Valve, is one of Mac gaming's most-loathed nemeses. Why? Because it's the company behind Half-Life, a landmark first-person shooter series that has never come to the Mac. Its science-fiction backstory takes place in a dystopian world where the Combine, an alien race, has taken over Earth. The Orange Box combines five Half-Life 2–based games in one box: Half-Life 2; its first two expansions, Episode One and Episode 2; Portal; and Team Fortress 2. The games all look fantastic, with realistic physics and spectacular graphics.
Psychonauts
If you have a PC and you missed this one, don't feel bad: I've seen Psychonauts on more than one "best games you've never played" list. It's a 3-D–platform action game set in a summer camp for kids with psychic powers. Playing with those abilities adds some neat twists to what could be a pretty much by-the-numbers action game. It helps that Tim Schafer, whose bona fides include a long stint at LucasArts, designed the game; he was responsible for the great humor in the Monkey Island games, Full Throttle and Grim Fandango.
Rome: Total War
An epic strategy game set during the Roman Empire, Rome: Total War is divided into a turn-based game in which you conquer cities and areas, moving your army to expand your empire, and massive real-time battles in which you command thousands of troops and send them charging across the battle plains in giant formations. There's also political intrigue: as a member of one of Rome's major families (the Julii, the Scipii, or the Bruti), you need to surround yourself with loyal family and friends, and your success or failure in battle will affect your standing in the Senate. Beautiful 3-D graphics and cinematic sound create an epic atmosphere like that of a Cecil B. DeMille movie.
Sins of a Solar Empire
The Mac hasn't seen a good space-based strategy game since Aspyr's release of Homeworld II a few years ago. This new one for Windows is already winning rave reviews, but hasn't found a home on the Mac yet. You start out with control of one world, exploring nearby planets and systems, exploiting resources you find, and building research to create new fleets of more sophisticated vessels. Eventually you're building fleets of warships, battling pirates, and conquering enemy systems. Despite its massive scale, Sins of a Solar Empire is pretty easy to get into.
World in Conflict
In this real-time strategy game, set in an alternate version of history, the Cold War ended not in perestroika but in World War III. In this vision of 1989, the Soviet Union attacks Western Europe, and the United States is immediately drawn into the conflict. The Soviets respond by invading the West Coast. Maybe you'll have to drop some tactical nukes over the Space Needle to shut the Russkies down. Or maybe you'll need to call in air strikes or set up artillery batteries in New York City. World in Conflict is amazingly well executed and gorgeous to boot.