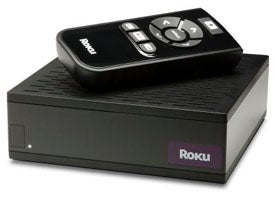 The concept of on-demand video is not new. Nor is the idea of delivering video to your TV via the Internet. But Roku's $100 Netflix Player transcends those two individual ideas by combining both into a simple device that works as billed to stream standard definition video to your television.
The Roku Netflix Player represents the first salvo in Netflix's push into the living room with streaming video. Previously, the Web-based movie rental company had announced at CES that it was partnering with LG to provide a box, too. But Roku's is first to market—and as such, garners all the notice.
Compact enough to fit in with other gadgets in your living room, the Netflix Player is unremarkable black, five-inch square that stands just two inches tall. The device sits between your television and your Internet connection (wired or wireless 802.11 b/g). The back of the device is packed with ports, but doesn't overwhelm: The unit outputs HDMI, composite, component, and S-Video ports out the back, along with SPDIF and analog stereo audio.
The installation screen warns you that set-up make take three minutes; in reality, though, it may take longer if you're not also by your computer. Set-up went smoothly, but in order to activate the Netflix Player, I had to log into my Netflix account on my PC, enter an activation code provided by the box, and then return to the unit.
Entering an access code isn't the only thing you'll need to power up your PC for: Roku says it made a conscious decision to keep the Netflix Player as simple as possible by only allowing you to browse titles in your Netflix Instant Queue (Netflix currently offers over 10,000 movies and television shows for immediate viewing). That means this TV companion will likely provide less of an impulse experience than, say, the Apple TV—which lets you browse options directly from the device—or even than, say, a cable service on-demand system like Comcast offers.
But, the counterpoint—and Roku's reasoning—holds that Netflix users are regularly in their accounts, browsing for titles to add to their disc delivery queue. Using the Instant Queue is simply an elegant extension of that, and it keeps the on-unit navigation down to a manageable minimum. (Although Macs can't play videos on the Netflix site, Mac users can add items to their queue just as they would standard Netflix movies.)
For regular users of Netflix's service, the Roku Netflix Player makes sense. Beyond the $100 cost of the box—a far more casual purchase than the $229 Apple TV or $299 Vudu—you'll need to subscribe to one of Netflix's four plans (the first plan that makes sense for this box is the $8.99 plan for one DVD at-a-time and unlimited hours of "instant" viewing on your PC or through your box).
I found simplicity to be the ongoing theme with the Roku Netflix Player. The remote fit comfortably in my hand, and has a minimal number of keys: A Home button to return you to the main screen, a five-way navigation (four directional arrows and select), and three buttons beneath that for rewind, play/pause, and fast forward.
The software interface was simple and straightforward, too. Navigating through my Instant Queue choices was easy, too: the left-right directional arrows let me breezily scroll through options. The device's settings were buried, though; fortunately, you won't need these often, but if you do, you'll have to first find the settings menu (hidden away and accessible only if you intuit to press the up arrow, as subtly shown on the screen).
The player has 256MB of RAM, and stores its software in ROM. It does some video scaling, too: According to Roku, the box receives the VC-1-encoded Windows Media file from Netflix, decrypts and decodes the file, and then scales it so the image fills the screen top-to-bottom, or side-to-side, as needed.
Netflix has four quality settings for every Instant film, and those settings—each at a different bitrate—represent different quality options the service delivers, depending upon your network bandwidth. Roku recommends users have at minimum a 1.5Mbps connection; movies average a bit-rate of 2.2Mbps. The player uses algorithms to analyze the available bandwidth and the film's bitrate, and adjust the playback quality accordingly.
Personally, I found the image quality underwhelming—but not much worse than my digital cable connection at home. Over a wired connection, the image quality on the movies I tested was (mostly) passable: I saw minimal artifacts, but the image looked flat, with muted colors. Some standard def content was downright blurry: the opening credits for some films and television shows were difficult to read. Clearly, I wasn't watching Blu-ray quality 1080p images with the depth and detail I've become accustomed to in high-def.
Still, the image quality was better than I'd expected considering the Roku was outputting at 480p to a 50-inch Pioneer plasma television, and better than many full-screen streaming experiences I've had—included with Netflix—on a PC. Roku outputs content by default at 4:3 aspect ratio; when you change the display setting to widescreen 16:9, Roku says it outputs anamorphic 4:3 content, so your TV can stretch the image properly.
One neat addition that's unusual for the world of streaming media: Roku worked with Netflix to create a way to mimic fast-forwarding and chapter marks on a DVD. Netflix took still frames every 10 seconds of every video it offers; when you playback a movie, the device not only buffers the film, but it buffers those JPEGs, too. When I fast-forwarded through a film, I could quickly scan frames (JPEGs) to find my desired spot; I then waited the 20-30 seconds (give or take, depending upon your connection) for the playback to reset to that spot and catch up.
Although the Roku Netflix Player is, for now, limited in its functionality, Roku says the device is surround-sound (as opposed to stereo) and HD-ready (a software update may be required). The company also says it's looking into other service delivery partnerships.
As it stands, the Roku Netflix Player may be a great companion for the living room, den, or bedroom—if you're already committed to Netflix, have bandwidth to spare, and don't mind watching variable-quality images. If Roku can add more functionality to the player going forward, this device's usefulness will increase multifold.