The much-hyped HTC Touch Diamond smartphone will cost around NT$26,000 (US$855) when it launches in Taiwan next month, sources in Taipei confirmed Friday.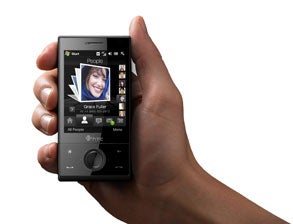 The price of High Tech Computer's (HTC) latest handset has been the subject of much speculation because of the load of expensive features it boasts. It's a 3G (third generation mobile telecommunications) handset with a 2.8-inch touchscreen, GPS (Global Positioning System) receiver and 3.2-megapixel camera. The handset runs on the Microsoft Windows Mobile 6.1 OS.
Speculation on some Web sites had put the price at under $800, but that may not be the case.
HTC officials have said that pricing will vary in each market, and that operators play a major role in pricing decisions. In Taiwan, for example, the NT$26,000 quote may be reduced for users who sign up for a bundled 3G contract from Chunghwa Telecom, the service provider launching Touch Diamond on the island.
An HTC representative said official prices will be provided when the handsets are available in each respective market, when asked about the Taiwan price.
HTC launched a different version of Touch Diamond in India on Thursday, which costs 27,500 Indian rupees (US$640). But the handset is an EDGE-based mobile phone (Enhanced Data Rates for GSM Evolution), which is the main reason it's less expensive than the 3G model to be launched in Taipei.
EDGE-based Touch Diamonds will be launched in some developing markets, while the 3G version will be available in places where networks are ready.