In April 1995, while lunching with reporters at San Francisco's trendy LuLu restaurant, Power Computing CEO Steve Kahng was asked how his company, which had just released its first batch of Mac clones, planned to compete with Apple Computer. "We're going to squeeze a nickel out of every dime," he said, smiling.
Two and a half years—and three Apple CEOs—later, Steve Jobs took back that dime. In between were the clone wars, which ravaged both Apple's reputation and its bottom line.
A decade has passed since those turbulent times, with Apple's recent run of success blurring memories of its mid-90s turmoil. Still, last month's emergence of Psystar—a company offering to sell PCs capable of running Mac OS X—has rekindled memories of the days when Apple's own machines weren't the only hardware capable of running the Mac operating system. Because of that, we thought we'd take a look back at the Mac clone era, examining their rise and fall—and why we're unlikely to see the re-emergence of any sanctioned clones any time soon.
The clones come alive
At first, licensing Apple's system software and motherboard designs to third-party manufacturers seemed like a good idea—to Apple's then-CEO Michael Spindler, at least. His company was slipping in market share and its developer base was jumping ship. Licensing Apple's crown jewels would jump-start the Mac platform just as free access to the MS-DOS operating system had done for Apple's PC rivals—or so the reasoning went.
It didn't work out that way.
Apple announced its licensing program in December of 1994, with Power Computing as the first licensee. Radius, then a manufacturer of high-end monitors and video cards, beat Power Computing to market in March of 1995 with its System 100. Power Computing, bankrolled by office-equipment manufacturer Olivetti, followed a month later with its first Power machines. Electronics giant Pioneer was next, debuting its MPC line in May, although it only sold clones in Japan.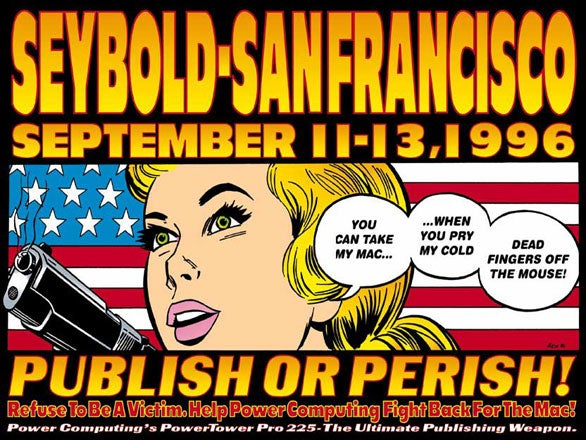 On August 24, 1995, however, came an event that threw the entire Mac market into disarray: the release of Windows 95. Although this PC operating system was judged inferior to the Mac's System 7, to most personal computer users it was "good enough." In 1995, PCs were generally cheaper than Macs; users voted with their wallets.
Still, Apple hoped that its licensing program could slow Windows' advance, and the clone deals continued. In October 1995, DayStar Digital, a maker of Mac upgrade cards, released its line of dual-processor Genesis MP clones, the first multi-processor Macs, followed by a quad-processor Genesis MP+ in February of 1996. (Apple eventually bought DayStar's MP technology.)
Trouble ahead
Apple finished 1995 by selling a record 4.5 million Macs, but the wheels were already beginning to wobble, if not fall off entirely. In January, Radius saw the writing on the wall and sold its clone division and SuperMac brand to scanner-maker UMAX. Apple's board of directors showed their concern on February 2, 1996 by replacing Michael Spindler with Gil Amelio, a turnaround artist from National Semiconductor.
The bad news continued for Apple. In May, Power Computing announced that it had sold 100,000 clones in its first year of operation. A Wall Street Journal article on the feisty start-up's impressive feat noted that half of the people who bought Power Computing machines would otherwise have bought a Mac from Apple. The licensing program was clearly cutting into Apple's bottom line.
Still, the clones kept coming. September 1996 saw Motorola join the field with its StarMax line, followed by Akia in Japan. In November, UMAX released its first SuperMac clones, followed closely by storage vendor APS's M*Power machines.
The following month saw an event that would change the fortunes of Apple forever. After a series of failed OS-update attempts such as Copland and Pink, and after a possible purchase of the fledgling BeOS was torpedoed by that company's CEO and ex-Apple head of Mac development Jean-Louise Gassée, Apple announced on December 20 that it had acquired NeXT Software. The purchase brought a familiar face back into the fold—Steve Jobs, NeXT's CEO.
That was the good news; the bad news was that Apple sold only 4 million Macs in 1996.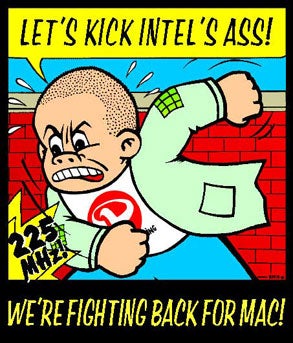 At the January 1997 Macworld Expo, Power Computing fired up the Mac faithful with its "Fight Back for the Mac!" campaign, complete with company reps dressed in camouflage uniforms circling the Expo hall in Hummers emblazoned with Power Computing logos.
Inside the hall the mood was decidedly less festive. Gil Amelio's keynote address was an unmitigated disaster, as he rambled with a lack of focus matched only by Apple's product line, which was lumbered with ill-performing Performas and other humdrum machines. Power Computing, on the other hand, was consistently shipping faster, less-expensive computers than Apple's.
Something had to be done—and fast. Nonetheless, it took Apple's board of directors until that July to get Gil Amelio to resign. In what turned out to be a staggering understatement, Apple's announcement of Amelio's resignation also mentioned that Jobs would "assume an expanded role as a key advisor to Apple's board and executive management team."
Before Jobs could exercise those new advisory powers, however, yet another clone maker popped up: MaxxBoxx, which made enormous cubical clones with room inside for 10 drives. The hardware never made it across the Atlantic from Germany, however, because Jobs soon pulled the plug on Apple's licensing program.
Cloning ban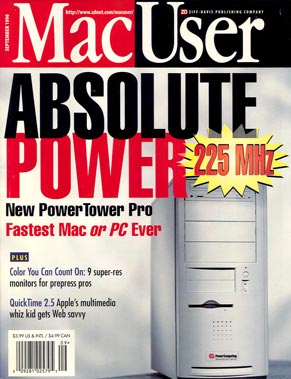 Having failed to renegotiate Apple's contracts with the clone vendors, Jobs came up with a masterstroke of banzai management. The licensing deals were for System 7, so on July 26, 1997, the next iteration of Apple's operating system appeared—named OS 8. Licensing it would cost clone vendors far more than the System 7 deals had. (Which didn't stop MacTell, the last of the clone vendors, from shipping its first XB clones at about the same time.)
Strike two came on August 30, when Apple ended clone support in its Mac OS Up-To-Date program, which provided low-cost OS updates for recent purchasers of new Macs. (The company relented a few weeks later for Power Computing and UMAX clones, although only for a limited time).
The third strike came on September 2, when Apple announced the purchase of Power Computing for $100 million in Apple stock.
The casualties came quickly. DayStar dropped out in August; Motorola quit in September; Pioneer threw in the towel in October; APS, MacTell, Akia, and MaxxBoxx also went quickly under. UMAX, which tried to negotiate an OS 8 license for sub-$1,000 clones, hung on the longest, but on May 27, 1998, it surrendered.
The clone wars were over, but Apple had sustained serious casualties. In 1997, Apple sold a mere 2.8 million Macs.
On May 6, 1998, however, the rebuilding began with the announcement of the Bondi Blue iMac, the machine that would begin Apple's resounding comeback. Since then Apple has seen its stock soar as it released Mac OS X, made billions from the iPod, and switched from PowerPC processors to chips built by Intel.
It's the move to Intel chips that has opened the door for a company like Psystar to offer its OS X-compatible PC. And it's also led some observers to suggest that Apple might again institute a licensing program. Michael Dell of Dell Computers has personally expressed interest in making OS X–compatible systems.
The chances of that happening? Slim to none, given the impact of Mac clones on Apple's bottom line the last time around.
Apple seems to have had its fill of clones, if the words of Phil Schiller, the company's senior vice president of worldwide product marketing, are anything to go by. "We will not allow running Mac OS X on anything other than an Apple Mac," Schiller said in the wake of Apple's 2005 switch to Intel chips.
We believed him then, and we believe him now. News of individual "hackintoshes" will continue to float about the Web, but Apple's days of OS licensing are gone.
[Rik Myslewski has been writing about the Mac since 1989. He has been editor in chief of MacAddict (now Mac|Life), executive editor of MacUser and director of MacUser Labs, and executive producer of Macworld Live.]