Last year when Adobe jumped into the Macintosh-audio editing business with its release of the Intel-only Soundbooth CS3 ( ), it did so with something less than both feet. Designed for those who didn't require (or wouldn't comprehend) a full-blown digital audio workstation (DAW) application, Soundbooth erred on the side of ease-of-use. It offered an intuitive interface, solid noise filtering, and a handy AutoCompose feature for generating customized background music. But it lacked the kind of more-advanced features—multitrack editing and the ability to place more than one AutoComposed score in a project—that audio pros or even advanced dabblers would desire.
Tuesday's release of the Soundbooth CS4 beta demonstrates that Adobe has its ears open to the needs of those who demand more from an audio editor. Not only does Soundbooth CS4 include multitrack editing and allow you to place multiple AutoComposed scores into a single project, it also offers some compelling new features. Highlights include non-destructive editing, the ability to create snapshots (restore points) that you can later return to, automatic volume matching, MP3 compressions preview, and a speech-to-text feature that attempts to transcribe the contents of an audio track (or a selection within it) and then lets you navigate that track by choosing words within the transcript.
Moving to multitrack
The inclusion of multitrack editing will make Soundbooth far more attractive to both video- and audio editors. And it works very much like multitrack editing in other Macintosh audio editors. From the File menu's New command, you now have the option to create not only a new empty audio file (which generates a mono or stereo document—you choose which—at the resolution of your choosing from 8- to 96Kbps) or a file from the contents of the clipboard, but also a new multitrack file. The resulting workspace contains a single empty stereo track with a large expanse of space below. You can add more tracks simply by dragging them into the main Editor window or by choosing Add Audio Track or Add Video track from the Tracks pop-up menu at the top of the Editor. Once in the Editor, you can drag tracks around to move them ahead or back in time in relation to the other tracks in the Editor.
Each track has its own Volume, Pan, Mute, and Solo controls, much like you find in Apple's GarageBand. And, just like with GarageBand, you can insert volume keyframes—by inserting these keyframes and adjusting them up or down, you change the volume curve of each track individually. (Soundbooth doesn't support pan keyframes, as GarageBand does. Nor does it have an auto-ducking feature for dropping the volume of one track when the volume of another increases.) Each track within a multitrack file can have its own selection of up to five effects at once.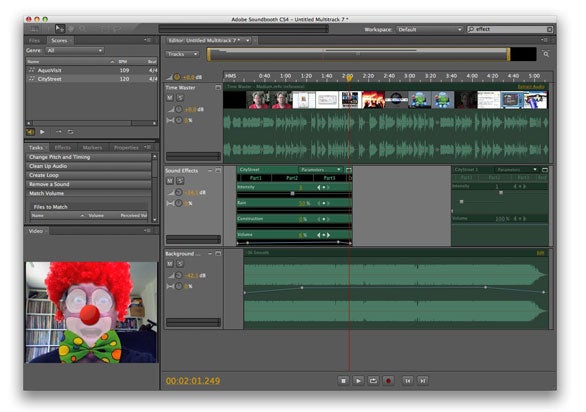 Accentuating AutoCompose
As with the original Soundbooth, the Soundbooth CS4 beta lets you add AutoCompose scores. These are license-free, intelligently generated music tracks that you can alter by changing their volume, intensity, and some of their instrumental makeup (increase the presence of a synthesizer and de-emphasize a sound effect, for example). You can change their length; as you do, their parts are arranged in a way that makes musical sense—with believable beginnings and endings, for instance.
Missing from the original Soundbooth was the ability to include more than one of these AutoCompose scores in a single project—a real hindrance if you wanted to start your project with one flavor of music and then, after a change in a video's tone, end it with something else. Soundbooth CS4 brings that capability to the application. Just select a score, click the Add Score to Multitrack, and the selected score appears where you've parked the playhead. The beta includes two scores—AquoVisit which is a new-age kind of jazz score and CityStreet, a sound effects track of a rainy Seattle street scene. If you have Soundbooth CS3, you can use its scores with the CS4 beta.
Untouchable assets
With Soundbooth CS4, Adobe introduces the Adobe Sound Document (.asnd) format. This format places all the project's audio resources within a saved file and these files can be used by other compatible Adobe CS4 applications. With the file format comes non-destructive editing, meaning that all the original assets are left untouched. Should you wish to revert to the original asset—backtrack by issuing multiple Undo commands, for example, or go back in time after imposing snapshots on your project as you work on it—you can do so without altering your source files.
You're not required to save your projects in the Adobe Sound Document format. You can also choose Save As and save your mixed project as an AIFF, WAV, MP3, or .MOV file. When you choose Save As or Export, you can choose how you'd like to export your file. For example, save your project as an AIFF file and you can choose a sample rate from 8- to 96Kbps and bitrate from 8- to 32 Bit Float.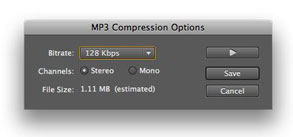 When saving as an MP3 file, you can choose the bitrate (16- to 320Kbps) and stereo or mono. Within the MP3 Compression Options dialog box that appears when you chose to save the file in this format, you can preview the file before saving it. Just choose the bitrate you'd like to hear from the Bitrate popup menu and press the Play button. The estimated resulting file size is displayed at the bottom of the dialog box. Soundbooth will take a minute or so to generate a preview and then play it for you using the bitrate you've chosen. If you don't like what you hear, simply choose another bitrate. While it's not the kind of instant preview you get with Ambrosia Software's WireTap Studio, it's a nice enhancement.
Volume equality
If you've recorded more than a couple of podcasts with multiple speakers you understand that balancing volume between speakers can be a chore—particularly when those speakers share the same track. Soundbooth CS4 introduces a feature that will be a godsend to podcasters and others in similar fixes—automatic volume matching.
The idea and execution are simple. Choose Match Volume from the Tasks menu and drag files into the Files to Match pane. Click Match Volume, and the program analyses the files, attempting to make them play at approximately the same volume. In the few tests I conducted in my time with the beta, it works remarkably well when you use separate tracks, with each speaker having sole possession of their track. When volume is radically different within a single track—you have two speakers sharing one microphone and one is loud and the other quiet—it's not as effective. It's better, but there's still a perceivable difference in volume, and the waveform display reflects this. Fortunately, you can eyeball the waveform, select the quiet portions, and easily increase their volume with the track's volume control. And, of course, this is just a beta. I hope Adobe continues to tweak this feature as it will be incredibly valuable to a lot of people.
Print the speech, I pray you
Speaking of features that have a lot of potential but need additional attention, there's Soundbooth's new Speech Transcription feature. Using a speech-to-text engine that Adobe declined to name, Soundbooth attempts to turn spoken words into text. You have the option to choose High (slower) or Medium (faster) transcription, and if you have multiple people speaking, the program will attempt to identify each speaker. This isn't a speedy process. Transcribing a file at the Medium setting works in just about real time—if you have 15 minutes of audio to transcribe, it takes about that long to create the transcript.
The unedited results are not the kind of thing you'll want to post as a transcript of your audio, as mistakes abound. I tested the feature with a couple of files from a recent podcast in which all speakers enunciated reasonably, and some of the resulting text was laughable. It does a decent job of ignoring "ums" and "ahs," but if a person speaks quickly and jams words too close together, the transcription goes off the rails. If you like, you're welcome to double-click on mistakes in the transcription pane and type the correct words.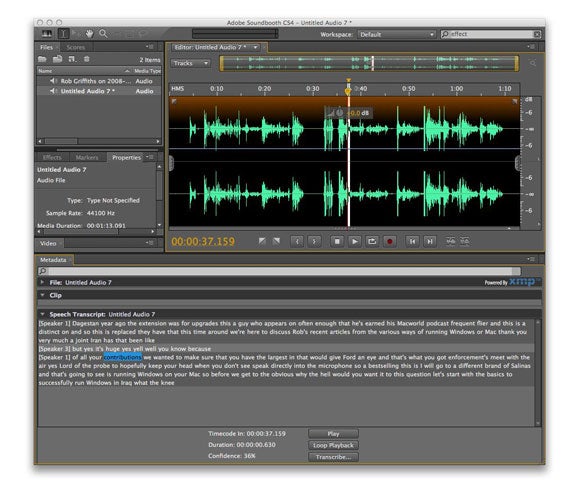 All that said, much of the point of this feature is so that you can navigate quickly through a long spoken file by clicking on words in the transcript (when you do this, the word is selected in the waveform). Even if the transcription is only 50-percent accurate (and those are the kind of results I saw in initial testing), it's likely that you'll find enough of the text you're after to easily navigate through the file.
Lend an ear
The Soundbooth beta is available now from Adobe Labs (www.labs.adobe.com). Like Soundbooth CS3, it works only with Intel-based Macs. The beta requires Mac OS X 10.4.11 or later; it's compatible with Leopard.
The beta expires after two days unless you have an Adobe CS3 serial number. With that serial number the beta will remain unlocked until the next version of the beta becomes available. (Adobe hasn't said when that will be.)
Though two days doesn't give you a lot of time to work with the program, it's definitely something those who have an interest in audio should explore. The new Soundbooth beta maintains the application's ease-of-use, making it appropriate for content creators who have had little experience with audio editors, while adding enough features to entice those with more-advanced audio editing needs.
[Senior Editor Christopher Breen is the author of The iPod and iTunes Pocket Guide, third edition, and The iPhone Pocket Guide (2007, Peachpit Press).]