This article is reprinted from Printerville, a Web site that provides information about photo printers and papers.
Epson on Tuesday announced the Stylus Photo R2880, the long-awaited replacement to the Stylus Photo R2400. The $800 printer, slated to ship in June, is a B-size (13-inch) inkjet that uses pigment-based inks, including two light-density black inks designed to produce optimal black-and-white prints on all types of media. And, while the R2880's pedigree shows a clear link to the R2400, the new model takes advantage of Epson's recent technology advancements from both the higher-end Stylus Professional printer line and the recently released Stylus Photo R1900.
Here are some of the Stylus Photo R2880's key features:
Borrowing from the Stylus Pro line, the R2880 uses nine inks, based on the UltraChrome K3 Vivid Magenta ink set: cyan, vivid magenta, yellow, light cyan, vivid light magenta, photo black, matte black, light black and light light black. The Vivid Magenta inks were released in mid-2007 for use in Epson's wide-format printers, the Stylus Pro 4880, 7880, 9880 and 11880, and feature a wider color gamut than the original UltraChrome K3 inks. Like the R2400, you still need to swap the matte and photo black cartridges when changing paper types, but Epson claims that the R2880 is much more efficient in managing ink usage and waste than its predecessor. (The R2880's print longevity should be identical to prints made with the Stylus Pro printers that use the Vivid Magenta inks: roughly 85 to 108 years for most Epson papers when framed under glass, according to testing conducted by Wilhelm Research.)
The R2880 is the second Epson printer (after the R1900) to use the company's new Radiance color-matching technology. Radiance was co-developed by Epson and the Rochester Institute of Technology's Munsell Color Science Lab to produce an advanced color gamut with better ink efficiency, reduced grain and more consistent color under variable lighting conditions (to help avoid a phenomenon known as metameric failure).
The printhead in the R2880 is the same one found in the Stylus Pro printers, incorporating both an ink-repelling coating (also found in the R1900) designed to minimize clogged nozzles and a sensor that regularly checks the nozzles and maintains proper head alignment. According to Epson, the R2880 printhead also undergoes a precise colorimetric calibration at the factory, obviating the need for regular calibration of the printer.
The printer has two USB 2.0 ports, allowing for two simultaneous computer connections. Unlike the R2400, the R2880 doesn't have a FireWire port, but it does have a PictBridge port on the front that supports direct printing from a compatible digital camera. (While some people will lament the absence of FireWire, our testing has shown that there is no discernible print speed difference between the two interface types.)
As befits the top of the Stylus Photo line, the R2880 has excellent paper-handling capabilities. It can print photos from 4-by-6 inches to 13-by-44 inches in size, on glossy, semigloss, matte, fine art and canvas media types. It has a top-loading paper tray that can hold up to 30 sheets of photo or matte paper, a rear slot for loading single sheets of thick media, a straight paper path for thick media, and a rear-feed mechanism for printing on roll papers from 4- to 13-inches in width. The straight paper path—which can handle media up to 1.3mm thick—also includes a separate tray for printing on inkjet-capable CDs and DVDs. (Epson includes a utility for disc printing with the R2880's software bundle.)
First impressions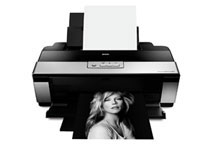 At first glance, the Stylus Photo R2880 doesn't seem like a huge leap forward, at least in print quality, but that's largely because the R2400's print quality was already pretty darn good. The Vivid Magenta inks definitely add incremental improvements in gamut and tone, but most users aren't going to see big differences between the original UltraChrome K3 inks and the Vivid Magenta inks. Where I think people will notice a difference however, is in the small details: the things that Epson has done to improve upon the experience of printing.
At Printerville, we've made no secret of our disaffection for the Stylus Photo R2400, especially as HP and Canon have come out with more competitive inkjets. The R2400 produces excellent prints, but printing with the Stylus Photo R2400 can still be a frustrating experience. Many of us have had regular trouble with clogged nozzles on our R2400s, which require frequent (and costly) head cleanings, and, if you want to switch between the matte and photo black inks, you often run into the "drained cartridge dance," a process that seems to drain more than just the black inks, requiring you to change other cartridges just to get your unit in a state where it can print.
I have been printing with a release version of the R2880 for a short while, and my initial feeling is that it actually is quite an improvement over the R2400. The print quality has been superb on both semigloss and matte/fine art papers (the R1900's HiGloss ink set produces the best color output on glossy papers), and the extra light-black inks give the R2880 an advantage in black-and-white printing over any printer priced under $1,000. Black-and-white printing was always the hallmark of the R2400, and the R2880 seems to kick it up slightly, producing rich, neutral prints with excellent shadow detail and beautiful tonal range.
In the short time I've had my R2880, what has impressed me most though is its ink efficiency. The printer's ink cartridges are the same capacity (between 13 ml and 15 ml, depending upon the source) and price ($13.99) as those of the R2400, which works out to between $0.82 and $1.08 per ml, better than HP's Photosmart Pro B9180 and B8850 and Epson's R1900 (but still considerably higher than the Stylus Pro 3800). After two complete ink changes and some careful comparison with our in-house R2400, the advancements Epson has made in the R2880 were readily apparent. Unlike the R2400, ink life was fairly consistent across all of the colors, and even with extremely low ink levels, I didn't have to replace cartridges when swapping between photo and matte black inks.
In Printerville's initial testing, we were able to print nearly twice as many photos using the same amount of ink on R2880 as we were able to do with the R2400, results that were even better than we had anticipated. While some of this can be directly related to the advanced ink-mixing technology in Radiance, I think that there's probably more technological improvements under the hood that Epson isn't specifically talking about.
The reality though, is that I really don't want to have to swap the matte and photo black inks; even with minimal ink waste, it costs some amount of ink to change the black cartridges. This is where HP and Canon have it over Epson, but it's worth noting that this is as much a legacy of those manufacturers coming late to the party as it is intelligent design. Printhead development is complex, and each printer company has invested vast resources—in research, development and manufacturing—into their technology. As a result, printhead advancements are measured in years, and companies are often forced to use variations of a single printhead design for quite some time in order to see a return on their initial investment. It was only last year when Epson released a new printhead design with separate channels for matte and photo black inks, and that was for its 64-inch wide-format printer, the Stylus Pro 11880. Without possessing any inside information, I would estimate that we won't see the benefits of that printhead, which required new production and manufacturing processes, in consumer-level printers until 2009 or 2010.
Final thoughts
On the surface, the Stylus Photo R2880 appears to be well worth considering if you want top-quality color and black-and-white output at a lower price than you'll pay for a printer like the Stylus Pro 3800. When you look at the photo printers that Epson has announced at this level in 2008—the R1900 and the R2880—it's clear that the company has no intention of ceding its position at the top of the market to anyone.
[Former Macworld editor-at-large Rick LePage runs the photo printer site Printerville.]