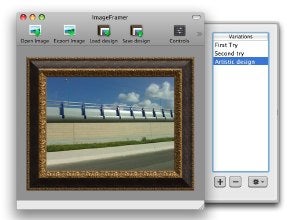 Apparent Software has released ImageFramer 2.0, an application that frames digital photos with photo-realistic frames. It costs $39, and is free for all registered users.
ImageFramer adds digital frames with multiple mats, watermarks, can batch-process several images at a time, colorizes and adjusts hue, saturation and brightness.
The new release includes over 60 frame designs with multiple variations, so you can compare how an image looks with different frames. It lets you select color, size and mat, and also lets you choose the background color so you can see how the image will look hanging on a wall.
ImageFramer requires Mac OS X v10.4 or later, 13.9MB hard disk space and a Mac capable of using Core Image graphics.