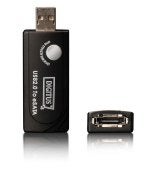 Digitus now offers a USB to Serial ATA (SATA) adapter that enables you to back up a hard disk drive using a one-button backup. It costs €14.90 (US$23.40).
The device connects to your Mac's USB port and includes software that runs on Mac OS X v10.2.8 or later. It looks like a USB thumbdrive, but features an external SATA (eSATA) connection on one end.
Clicking a button activates software included with the device that will detect a SATA or SATA II hard disk connected to the external port and begin a backup of the data you specify.