Realmac Software on Thursday announced the release of RapidWeaver 4.0, a major new upgrade to their Web site creation software for Mac OS X. It costs $79; upgrades from 3.5 and lower versions are priced at $30. RealMac is temporarily offering RapidWeaver for $59.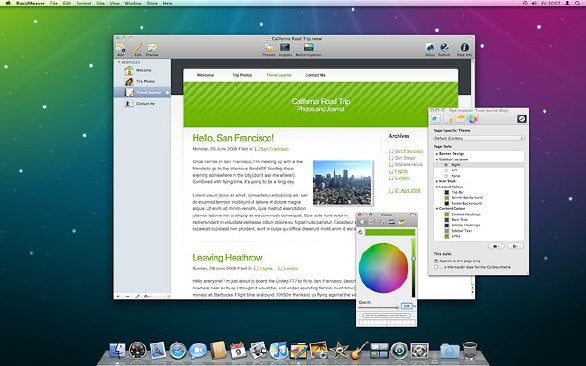 RapidWeaver helps Mac users create feature-rich Web sites using themes. It doesn't require you to know how to code in HTML to make a site, and it can produce standards-compliant sites.
New features in RapidWeaver 4.0 include a new user interface, one-click Web publishing, "WebClip" icon support for iPhone and iPod touch bookmarking, and built-in support for Google Analytics. RapidWeaver also adds new theme management features: high-res previews, integrated search, folder support and filtering. Four new themes have been added too.
Realmac has also improved RapidWeaver's accessibility for developers. The new "Bundle" format used in RapidWeaver's save files is XML-based, and enables third-party apps to interact with projects without needing to be run as a RapidWeaver plug-in.
RapidWeaver 4.0 requires Mac OS X 10.5.2 or later. A free trial version is available for download.
Due to an error in the press release announcing the software's availability, the wrong prices were previously listed. That has been fixed.>