When Adobe acquired Macromedia in 2005, many people speculated that the software maker would scrap Fireworks would be retired in favor of its competitor, Photoshop ImageReady. Instead, ImageReady was sent out to pasture, and Adobe released feature-rich Fireworks CS3 ( ). Adobe further expands upon those features in Fireworks CS4, which debuted as a public beta this week.
The beta for the vector and bitmap graphics editor introduces a number of new features and enhancements that reflect Adobe's commitment to innovative products.
New look
Just like the Dreamweaver CS4 beta also unveiled this week, the latest version of Fireworks adopts the universal interface of other Creative Suite applications, making it easier for designers to switch between the different programs. It's easy to customize the workspace by undocking and docking panels. Panels can be collapsed to give more screen space. And the Mac version now supports document tabs.
Fireworks CS3 introduced the ability to develop and export multiple Web pages. However, the resulting files could be fairly large due to the way the application created graphic shims and tables to maintain a page's appearance. The Fireworks CS4 beta resolves this issue by allowing you to export HTML pages using CSS-based layouts. Using the new slice type "Background Image" you can select an area of a layout to export as a background image.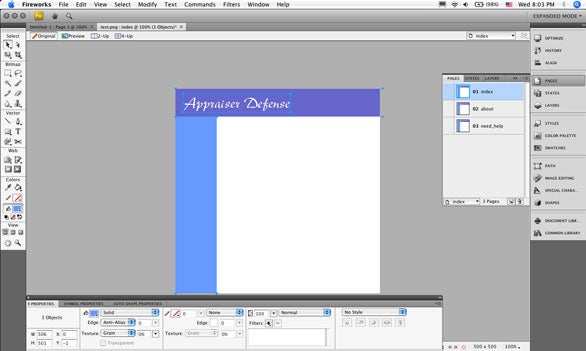 New features
When you're ready to export a layout you can choose to have Fireworks generate both an external style sheet and HTML pages or to have the styles included in the pages' HTML code. When exporting an HTML file, Fireworks now warns you if a non-standard font is in use and allows you to cancel the export and choose a different font or specify the area using the font as a graphic.
Fireworks' ability to export a clickable prototype of a Web site into an interactive Adobe PDF means you can send your client a prototype without having to provide a fully functional site for approval. Clients can use Adobe Reader to review and share comments with you about the site. The beta also allows users to design once and deploy their layouts to Adobe Air, Adobe Flex Builder, and Adobe Flash.
Fireworks CS4 shares the same text engine that Photoshop and Illustrator use. This means text will be more consistent when it's moved between these products. Double-byte characters imported or copied and pasted from Photoshop or Illustrator will not lose fidelity. Floating text inside a closed path is one more feature that allows you to create interesting designs.
Designers will appreciate the beta's Smart Guides. As an object is moved around the canvas, guidelines display dynamically, making it easier to precisely place objects. Additionally, the application's 9-slice scaling tool has been expanded to apply to any object on the canvas, not just to symbols.
More to come
By releasing the beta version of Fireworks to the public for review and comments, Adobe's new development model should result in a robust end product. Those who choose to download the current beta version should be aware that the product isn't completely stable. The program intermittently closed when I tried to preview a layout in a browser or experimented with other features.
Additionally, I couldn't open the Fireworks CS4 beta on an iMac that had Parallels Desktop installed. However, I was able to run the beta on my other iMac, MacBook Pro, and PowerBook G4.
Users who have CS3 installed can run the beta until the final version comes out. (Adobe hasn't said when this will be.) Without CS3 installed, the beta will quit running after two days.
You can download the Fireworks beta from Adobe. It runs on a PowerPC G5- or Intel-based Mac running Tiger or Leopard.
I'm looking forward to the final version. Once Adobe resolves the beta's stability issues, it will have a product that steps across the line from being a Web graphics program for designers to a tool for both designers and developers.
[Cyndy Cashman teaches Fireworks, Dreamweaver, Flash, Photoshop, and Illustrator at her company, Breakaway Interactive. She has written numerous tutorials and software reviews for both online and print publications.]