Editor's Note: The following article is reprinted from Macworld UK. Visit Macworld U.K.'s blog page for the latest Mac news from across the Atlantic.
Quark used to be the last word in desktop print publishing, but Mac OS X support gave Adobe's InDesign a competitive advantage at a crucial time. With QuarkXPress 8, Quark is attempting to gain back market share it has lost to Adobe, with an acknowledgement of just who its key markets are. It's also reaching out to new customers, by offering new tools and language support that will be of interest to interactive designers, typographers and print professionals alike.
Simplification and suitability are the key messages in version 8. "We looked across the board at how page designers were creating their layouts in various applications," says Dan Logan, QuarkXPress Product Manager. "We found they were being frustrated by the number of tools required to do even basic tasks like placing and fitting their images. Our approach was to make the tools better fit the tasks."
Quark's research also involves being aware of the creative workflow most designers follow, with the refreshing addition of native Illustrator and Photoshop file support. There are improvements to existing tools and while the main keyboard shortcuts are still in place, the new version introduces intelligent tools that adjust to user demands for placing and manipulating content. So does this spell a new life for the venerable DTP tool?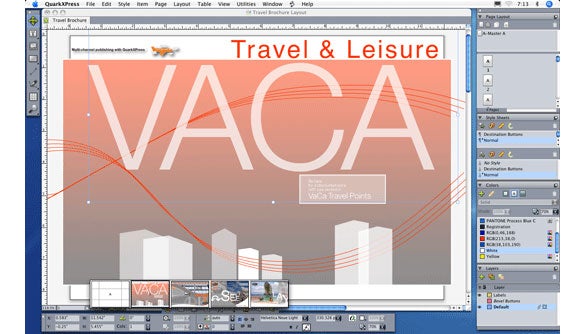 QuarkXpress 8 has been designed to follow an intuitive workflow. You use the Item Tool when it's time to set up a page, the Bézier Point Pen Tool when you need to draw and when you want to work with content, double-clicking on an image or text will bring up the new Text Content or Picture Content Tool respectively.
The Picture Content Tool is one of the standout new features in version 8, bringing the ability to grab, rotate and scale images without typing in numbers or switching from tool to tool. It enables direct picture rotation and scaling along with previewing and cropping.
The picture box itself has been redesigned, offering a semi-opaque overlay and handles so that you can interact directly with the content and place it on the page with greater precision. Modifier keys are also supported, such as using the Option key to duplicate when dragging or constraining the interactive rotation by holding down Shift. The existing Item Tool and new Text Content Tool both exhibit similar smart behavior, which Quark says will lead to less switching between tools, even for rotation or dealing with multiple items. For example, when you want to resize multiple objects you can just select them and do so—there's no need for a separate 'group' command.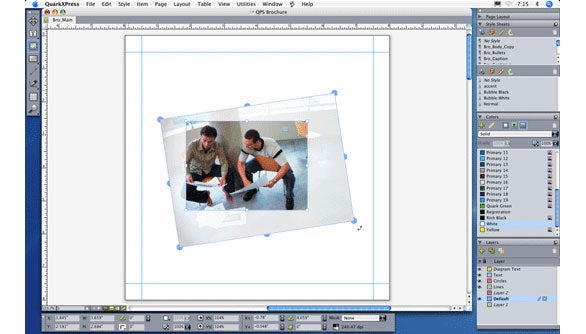 Content is king
The new content tools also allow designers to create templates with preset content type or modifier keys to set the generic boxes to be either text or pictures. In keeping with tradition, keyboard shortcuts abound in QuarkXPress 8, such as if you press R when using the circle tool, you'll be presented with a circular picture box, or if you hold down B when selecting a box, you can cycle through the tools options. Such shortcuts add to the existing library of key commands that are preserved in version 8.
Actually getting content into QuarkXPress has been made simpler too, including the ability to drag and drop from the desktop or Adobe Bridge, iPhoto or Extensis Portfolio. The opposite is also true—you can drag content from layout boxes to applications such as Photoshop, Illustrator, Microsoft Word or the desktop, to allow editing of the content in an external application. Double clicking on an image will also bring up an 'edit original' dialog for a similar purpose.
It doesn't stop at pictures—any kind of content can be imported into any type of box, or even imported where no box exists. Such streamlining abounds, such as when you want to create rounded rectangles, you simply draw a box as usual then select the rounded corners icon on the status bar.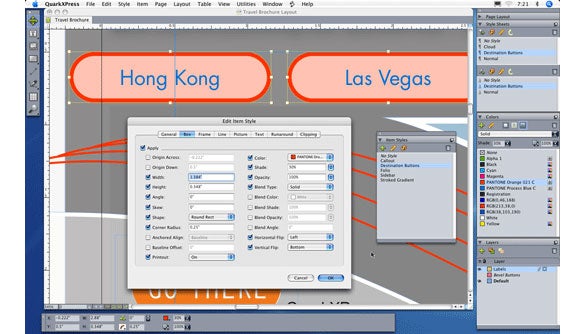 Another powerful new command is Item Styles. As well as enabling the formatting of multiple items to be applied simultaneously, the new item style command can sample attributes of an item into the dialog box using an acquire command, picking up attributes of any item selected. An edit dialog box is on hand to allow users to turn on or off or adjust these properties, before saving the attributes as a new style—this is offered as a keyboard shortcut too. The related Item FindChange command allows you to filter by type and shape and then modify the appearance of multiple existing items.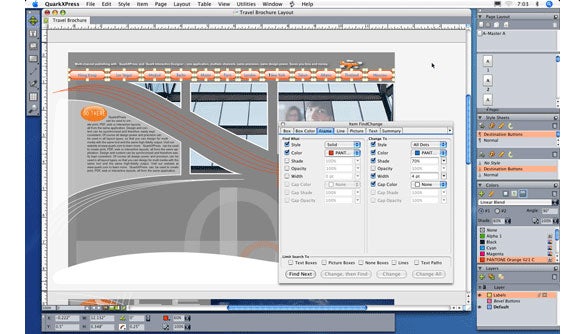 The Measurements Palette also gets a boost. Features include interactive drop shadows, which allows designers to directly manipulate the direction of the effect and vertical guides appear when tab settings are adjusted. Meanwhile if you rescale an image, the effective resolution will display a live update on the measurements palette.
Legacy users
Quark obviously wants to get the sizable base of legacy users up to speed. In terms of backwards compatibility, you can open QuarkXPress documents back to version 3, but you can only save documents back to version 7. The company also intends QuarkXPress to be part of a creative workflow—version 8 ships with Job Jackets and Output Styles suited for the prepress industry standard Ghent Workgroup (GWG) workflows. QuarkXPress also now supports import of PDF files up to version 1.7.
Quark's Dan Logan says that the intention with version 8 is to make moving between Adobe Creative Suite applications and QuarkXPress more intuitive. So in addition to the ability to place native Illustrator .ai files in QuarkXPress layouts, the Pen tool has been given an Illustrator-style makeover and the whole Bézier toolset works much like Illustrator does. The single letter key command to activate Tools in the tool palette will be familiar to Adobe users, as will the newly standardized keyboard shortcuts for scaling, duplicating and restraining.
The 'Text-to-box' conversion feature now supports multiple lines, entire stories or even multiple boxes up to an entire spread and supports the appearance of text, including color, opacity and most other text transformations.
The PDF enhancements include the aforementioned Job Jackets and Output Styles, as well as an improvement to registration mark placement that now fits international norms.
Creative Suite
"We've added several features to really make QuarkXPress work well with the Creative Suite," says Logan. "They let you take everything you learned there and move it to your page layout. With the new pen tools and Illustrator import, QuarkXPress makes it easier to work with Illustrator—and easier to work without it." It's also possible to export QuarkXPress files in Flash (SWF) format, which is part of the new interactive integration in version 8.
" Quark Interactive Designer was an optional upgrade for QuarkXPress 7," says Logan. "However the feedback we got from users was so positive that we have fully integrated it into QuarkXPress 8." Designers will thus be able to use their QuarkXPress document as a basis for a website, using the built-in Flash authoring tools to convert page elements into Web assets. These tools fully support the new typographical feature set, including all of the international and East Asian features. "We talked to a lot of creatives about typography," says Logan. "What we heard back was that they appreciated features that made type design faster but they got frustrated when they weren't able to control the settings of those features to fit their design needs. So the typographical features in QuarkXPress 8 ship with presets that cover the common situations, but also let creatives get in and easily take control of the settings when they need to."
Typography
QuarkXPress 8 delivers on typography demands with text features like extensive Hanging Character support and advanced Baseline Grids. Using hanging character sets, creatives can have precise control over which characters hang and by how much, while tricky situations involving drop caps can be handled without manual tweaking. Quark claims this is the first page layout application to offer paragraph-by-paragraph control, multiple presets and the ability to create and share settings for hanging characters. Hanging characters can also be linked to style sheets.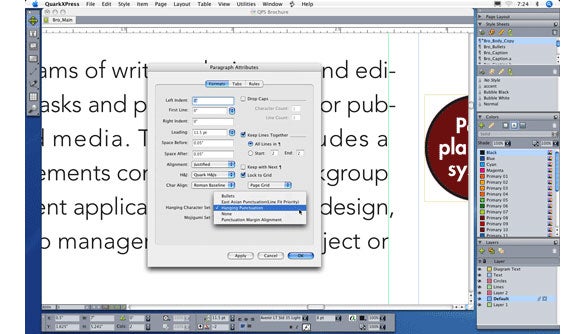 In previous versions of QuarkXPress, the Baseline Grid offered one grid per layout. The new version offers the ability to apply text grids at both the page and box level, so affording designers freedom to create layouts with separate grids for sidebars, captions, and so on. Grids can display different lines (baseline, top line etc,) and offer separate view controls for page and box grids. Additionally grids can take information out of the font or be specified manually. A new Grid Styles feature means that such custom-built grids can be kept consistent without extra manual work. These maintain consistency throughout a project and can be linked to style sheets to inherit text-formatting changes.
Version 8 also adds more control over traditional page guides, enabling users to set position, color, and other options, just by double-clicking the guide.
Furthermore, Design Grids become an even more powerful feature when working in East Asian Languages, supporting true ideographic-grid based type alignment. This is pertinent to all users, given the wider support for international text in the new editions of QuarkXPress.
Facing the world
The first thing you'll notice on seeing QuarkXpress 8 is how different it looks. The tool set has been reduced dramatically, but each tool offers a wider range of options than before.
All font menus now offer a WYSIWYG preview of the fonts in your system and will also display whether the font is Truetype, Postscript or other formats. There are also new icons in the Style Sheets palette.
Quark has reworked the active page logic so that when a QuarkXPress user has to change the spread, the application assumes that the page in the middle of the window is the active page. A subtle feedback indicator has been introduced to show which page is active, based on the color of frames and the addition of a drop shadow
Users can of course adjust preferences for these interface tweaks.
A preview of all the pages is available in a pop-up thumbnail pane at the lower part of the screen and, playing to Quark's user base, this is a Mac only feature. A zoomed preview is accessible by pressing the up arrow when hovering over each thumbnail. Quark is also working on a Quick Look filter for version 8, to take advantage of Leopard's preview feature.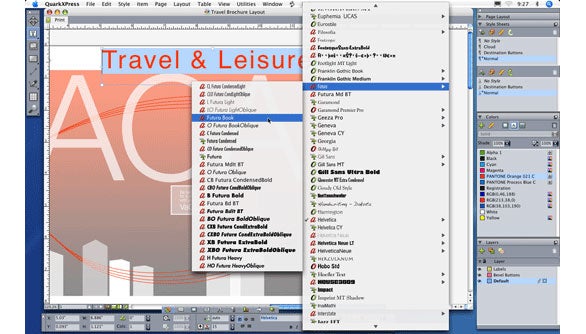 Off the page
Every edition of QuarkXPress now includes the ability to design simultaneously for print and Flash (SWF), without the need for any programming skills. Existing print jobs can be converted swiftly into Flash and designers can author fully integrated print and interactive Flash campaigns with shared images, text and styles. As well as embedding images and sound in the document, it's possible to externally reference video files.
A dedicated interactive palette is where all interactivity for objects is defined, controlled and removed. It gives access to animation features, such as a library of around 100 behaviors, as well as providing a dialog for setting events, triggers and transition effects. Version 8 supports Flash ActionScript, but the script editor is completely graphical in nature.
As the palette is integrated within the content creation toolset in version 8, it's possible to combine time based actions and events with custom built graphic elements to create buttons to drive video, interface events and animations—all without leaving QuarkXPress.
Users can export QXP documents as Web-ready layouts that conform to HTML, XSLT and CSS standards as well as being able to set the SWF player version for animations. These can either be exported as stand-alone application (projector file) or embedded in the HTML page.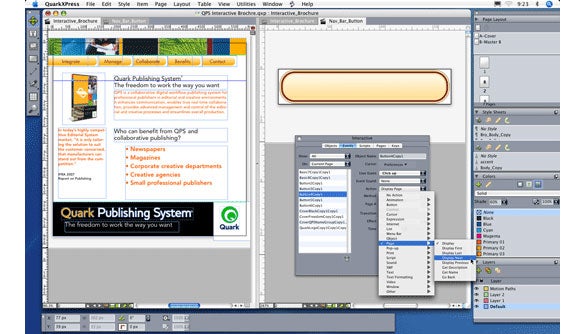 Graphic detail
New features like the enhanced Bézier tool have revamped illustration work in QuarkXPress 8. Hitting the P key activates the tool and switches the application into illustration mode. The original Bézier tool interaction still works the same as before, but new modifier keys and functionality is available. For example, if you hold down option you can turn corner points into smooth points and you can grab segments to drag them around, as you would in Adobe Illustrator. Other features are similarly aimed at allowing designers to be able to interact directly with the object: clicking on points on an object deletes them, Option-dragging an object creates a duplicate and the Drop Shadow tab on the Measurements palette offers direct manipulation via ticker arrows that control the shadow's scale, size and blur.
Under the Item menu is the Convert Text To Boxes command. This allows you to transform text into a graphic shape, which can then be edited with the pen tool. It's especially useful when working in conjunction with single symbols from the Glyphs Palette, but you can also transform an entire multi-line story with this feature in QuarkXPress 8. Color, transparency, and position settings are all retained.
Editions and availability
Version 8 of QuarkXPress has been designed to make it easy to publish anywhere in the world. It offers a unified language feature set and global file format, as well as a true East Asian text engine.
"More and more of our users are creating multilingual documents or publishing their content internationally," says Quark's Dan Logan. "So we created a file format in QuarkXPress 8 that can support both eastern and western typography, as well as including support for more than 30 languages in all editions of the product."
The old 'Passport edition' has been retired and now all editions of QuarkXPress share the same spell checking and hyphenation and justification (H&J) functions—the initial release will support 38 languages.
Version 8 will be available in the following editions: Europe West and Europe East (formerly Passport) organized into 25 User Interfaces (UIs) to choose from in each one; Americas (US English, French Canadian, Latin American); and East Asia Edition (Japan, Korean, SC+TC Chinese, English). Currently Arabic is offered as an XTension.
All Non-Asian editions also support the import, formatting and output of East Asian text, but if you require deeper features such as formatting Rubi characters, advanced character spacing such as mojikumi, or true ideographic layout grids with character count, then a Plus edition is available for the UK & Ireland English UI of the Europe West edition to add this functionality. The only difference therefore is that features like line-breaking, vertical text and so on, common to Asian typography will be able to be opened in the ordinary U.K. & Ireland edition, but you can't modify it unless you buy the Plus Edition. However the universal file format ensures that there is no file transfer headache waiting for users of either version.
QuarkXPress 8 will support Mac OS X 10.4 and 10.5 and will be available this summer. Pricing has yet to be announced.