TransMedia on Thursday launched Glide OS 3.0, a new version of its "mobile operating system" that provides universal connectivity to your files regardless of where you are or what device you're using to access the files.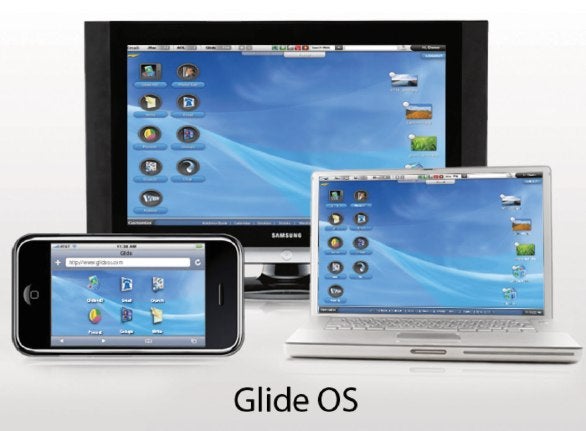 Using client software you install on a Mac, Linux, or Windows computer, Glide makes it possible for you to access your data remotely using a cell phone, smart phone, PDA, or other device — everything from media files like photographs and music to data like word processing content, spreadsheets, and more. Glide relies on transcoding technology in order to make the data accessible to you regardless of what platform or device you're using.
Glide OS also features rights management technology that lets you restrict (or un-restrict) access to your files as much as you need to. You can, for example, restrict access to a specific file to be viewed only by a specific user a set number of times, or you can restrict by upload limits, file modification structure, group and project management association, and more.
What's more, Glide OS features 20 applications (developed using so-called Web 2.0 technologies) so you can create content on the go, as well. That includes a photo editor, word processor, presentation software, spreadsheet application, custom e-mail client, project management tool, calendar tool, meeting software, slideshow creator, and more.
Mobile device support in Glide 3.0 now includes more than 75 devices including the iPhone, iPod touch, BlackBerry Pearl, devices from HP, Kyocera, LG, Nokia, Palm, Samsung, Sony Ericsson, and other manufacturers.
Access to Glide-shared data is now governed by a sync application called One, and it works on Mac OS X, Windows, and Linux operating systems. One lets you sync music, documents and photos from your computer to the mobile workspace.
Glide is available for free for up to 5GB of storage capacity. Paid plans are available starting at $4.95 per month or $49.95 per year.